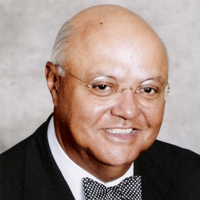 The Webster University community mourns the passing of James Buford, the longtime president of the Urban League of Metropolitan St. Louis, who served on the advisory board of Webster's College of Arts & Sciences and was the University's commencement speaker in 2000.
Buford led the region's Urban League for 27 years, growing it into the largest Urban League affiliate and setting it up for continued success after his retirement in 2013.
Throughout his career he also lent his time and wisdom to important public policy roles, including workforce development, public schools and the board of elections. He was a lifelong advocate for underserved communities and prioritized the need to eliminate poverty.
At Webster's 2000 commencement ceremony, Buford received an honorary Doctor of Humane Letters. During his address, he referenced protests he had participated in the previous summer to raise awareness of the lack of jobs and public contracts for minority-owned construction businesses.
"It's said that 'a man who doesn't stand for something will fall for anything,'" Buford said then. "Life is simple. You've got to act for what you believe in."
In an interview with the College of Arts & Sciences newsletter in 2007, Buford spoke of his connection to Webster University and why he was happy to join the advisory board:
"On the way to school, I used to walk by the University every day," he says. "My sister and I both used to perform in piano recitals there. And my sister received a scholarship from Webster. As a Catholic myself, the founding Sisters of Loretto tradition appealed to me, too. But I look at it this way: Webster has always given to me, so whenever I can give back, I will."
"Plus, Webster serves an important role in this community," Buford continued. "For a long time, a lot of African Americans have matriculated there. Even back in the day when African Americans, for whatever reason – be it lack of funds or not feeling welcome – often weren't matriculating, Webster was always accommodating and welcoming."
Read More Memorial Tributes to Buford: