Remembering John Grant, Webster Student and Navy Veteran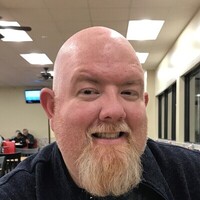 The Webster University community mourns the passing of John Grant, a graduate student who was pursuing a master's degree in Management & Leadership through Webster's Naval Support Activity campus location in Memphis, Tennessee. He was a retired Chief Yeoman from the U.S. Navy.
The community extends condolences to his family and friends.
"John inspired those who had the honor to know him. He was a fighter, a genuine, and kind person," said Connie Southall, director of Webster's Memphis location. "We are all better to have known him and are deeply saddened by his passing. Please keep his family in your thoughts and prayers."
See the online obituary for memorial details and an online guestbook.
Student and Employee Support
For Webster employees affected by this loss, please contact the Mental Health office at 801-586-CARE (2273). For students, the duty chaplain is available after normal work hours and can be reached through the NSA Mid-South Duty Officer at (901) 619-8314 or through your respective Command Duty Officer. In addition, Webster's Counseling and Life Development Staff are available to assist all current Webster University students, faculty and staff. Contact them via phone (314) 968-7030, or e-mail counselingld@webster.edu.