Remembering Kimberly Harrick, Education Faculty Member and Alumna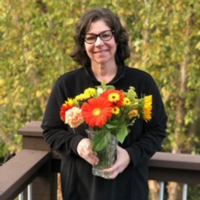 The Webster University community mourns the passing of School of Education adjunct faculty member and alumna Kimberly Harrick.
Harrick earned her MAT in Communication Arts from Webster in 1995 and an EdS in Leadership in 2004. As a teacher, she was a Teacher of the Year recipient and Rockwood Outstanding Service in Education (ROSE) Award recipient before serving as an assistant principal in the Rockwood School District. At Webster, she taught courses in the Education Technology program.
She died peacefully, surrounded by family, of pancreatic cancer on Thursday, July 16, 2020, at the age of 51. The Webster community extends condolences to her family, friends and colleagues.
"A pillar of strength, courage and integrity who loved her people fiercely...Kim lived life with gusto and embraced traveling and outdoors adventures throughout her life. She loved hiking and the outdoors, whether conquering Yosemite's Half Dome, filling her spirit with MOBOT's beauty, tramping in New Zealand's Tongariro National Park, being awestruck at Olympic National Park and Hoh Rain Forest, experiencing Old Faithful or traversing Matanuska Glacier in AK."
Read the full tribute and memorial information here.
To protect the safety of her loved ones, funeral services are private, but her family intends to hold a larger celebration of life next year.