Remembering Ronald W. Hunt, Webster Hill AFB Student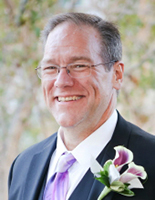 The Webster University community mourns the passing of Ronald W. Hunt, a graduate student who died in a fatal car accident last week. He was pursuing a dual Master of Business Administration and Information Technology Management at Webster's Hill Air Force Base, Utah, campus location.
The community extends condolences to his family, friends and colleagues at Hill AFB, where he was a computer scientist for the Department of Defense.
"We are heartbroken to have lost a valued member of our family," wrote Steven Doty, Webster Hill AFB director, in a note to campus faculty, staff and students. "Webster University, like Hill AFB, considers itself a family and the loss of Ron is felt by each of us deeply. Our thoughts and prayers go out to his family, and are with all those affected by this tragedy."
For Hill AFB and Webster individuals affected by this loss, please contact the Mental Health office at 801-586-CARE (2273), the Base Chapel at 801-777-2106, or the Airman and Family Readiness Center at 801-777-4681. In addition, Webster's Counseling and Life Development Staff are available to assist all current Webster University students, faculty and staff. Contact them via phone (314) 968-7030, or e-mail counselingld@webster.edu.
Viewing and services are scheduled for Dec. 6 and 7. More information and a tribute wall can be found in the obituary here.