Remembering Sandy Zimmerman, Chair of Webster's 1st Lay Board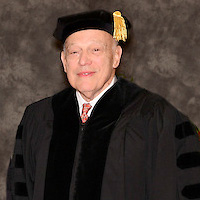 The Webster University community remembers the life of Sanford (Sandy) J. Zimmerman, who passed away last week.
Zimmerman served as the first chair of Webster's lay board of trustees, when the institution transitioned to independent, secular status in 1967. At a time when Webster's future required the advice and counsel of a smart and principled business executive, Zimmerman stepped into that role and helped gather support from the surrounding community. In doing so, he became a lifelong champion and important partner for Webster, even after his own career took him to New York.
"For us at Webster, Sandy Zimmerman became the kind of partner that every university president values, helping to assure the success of venture far from certain as Webster embraced an independent and more inclusive identity," said President Elizabeth (Beth) J. Stroble.
Born in St. Louis, Zimmerman worked his way through college in his father's shoe store, gained a master's degree, taught two years at New York University, and became the country's youngest department store president at the age of 37 when he assumed leadership of Famous Barr (now Macy's).
During Webster's Centennial year in 2015, Zimmerman received the honorary Doctor of Laws at Commencement, in recognition of his contributions to Webster at a pivotal time in its history and his continued guidance and generosity over the decades.
The family is planning memorial services for October.