Remembering Seena Kohl, Anthropologist and Women's Studies Pioneer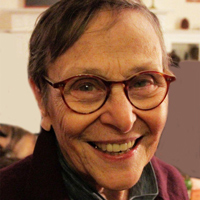 The Webster University community remembers Seena Kohl, an anthropologist who helped found the Women's Studies program during her 42-year teaching career at Webster.
She passed away this month in Helena, Montana.
The beloved professor and cultural anthropologist joined Webster in 1967 in the middle of the civil rights movement in the United States. She covered everything from race and gender relations to oral culture, to American frontier settlement and Native Americans.
Kohl received one of the earliest Roswell Messing, Jr. Awards, given to Webster faculty for curriculum innovation, in 1979. In her time at Webster she helped guide and manage countless programs as a colleague and committee member, including the Women's Studies program, the Faculty Speaker's Committee, and the internship program for Webster students at the Missouri Historical Society.
In 1986, she was awarded Faculty Development Leave by Webster to spend a year as scholar-in-residence for Neshoba County, Mississippi, as part of the Mississippi Committee for the Humanities. There she studied relations among blacks, whites, and Choctaws – and encouraged them to learn their shared histories as part of a project called, "Diverse Origins, Common History."
The background of the Neshoba County cultures was so rich – yet scarred – that the local citizens had sought out a scholar-in-residence, which Kohl applied for and earned. Bringing citizens together to openly discuss wounds from before and after the Civil Rights movement, Kohl believed eyes were opened, and a new level of support and understanding was reached between the different ethnic groups.
"It was the first time that many of the people had talked to each other about those experiences," Kohl said at the time, as quoted in a 2009 Global Thinking post upon her retirement.
A St. Louis Post-Dispatch obituary quotes a former student on the impact Kohl's academic career and example set for the women who followed her:
"She was unlike anybody I'd ever met before," said St. Louis labor attorney Mary Anne Sedey, whom Ms. Kohl tutored at Webster from 1965 to 1969.
"She was a person who combined marriage and family and a career in a way that to women of my generation was brand new. And she encouraged us to follow her. We knew she believed in feminism and the women's movement, but she really lived it."
A memorial service on the Webster Groves campus of Webster University is scheduled for 2 p.m. on July 21 in the University Center Sunnen Lounge. In lieu of flowers, memorial gifts can be made to Webster University, for the Dr. Seena B. Kohl Memorial Endowed Scholarship at webster.edu/giving. Please note "In Memory of Seena Kohl" under "Additional Comments/Special Instructions." Memorial gifts can also be sent to Pamela Kramer, Office of Advancement, Loretto Hall. Please indicate "Seena Kohl Memorial" on the check.