Remembering Tamarris Bohannon, Webster Student and St. Louis Police Officer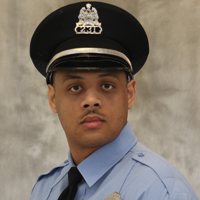 The Webster University community mourns the passing of undergraduate student Tamarris "T" Bohannon, a St. Louis Police Officer who was pursuing a degree in the Criminology & Criminal Justice at the Gateway campus in downtown St. Louis.
Officer Bohannon was killed in the line of duty while responding to a call on Saturday afternoon. He is fondly remembered by Webster faculty and staff who taught and supported him at the Gateway campus.
"Tamarris was a promising student who was dedicated to personal growth and to serving communities," said President Julian Z. Schuster. "His loss will be felt throughout the Webster and St. Louis communities. Webster extends our deepest condolences to his family, friends and colleagues."
The circumstances of Bohannon's death received extensive coverage in local media, and his family issued a statement that was shared by the police department and reported in local media:
"It is with great sadness we share the loss of Officer Tamarris "T" Bohannon. Affectionately known as "Bo" by his squad of the St. Louis Metropolitan Police Department. A three year veteran, who was raised and continued to live and raise his family in the City in which he patrolled.
"He is a hero to many, but most importantly to his loving wife and three incredible children.
"The loss of this great man is felt deeply within the St. Louis community and we ask for your prayers and support in the days ahead."
As always, Webster's Counseling and Life Development staff members are available to assist current students, faculty and staff who seek grief counseling or other assistance. Students can visit the office on the Webster Groves campus at 540 Garden Avenue, or contact the office at (314) 968-7030; or e-mail counselingld@webster.edu.