Webster University Remembers Toyoshi Satow, J.F. Oberlin Chancellor and IAUP Chair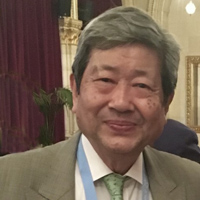 Webster University is saddened to learn of the passing of Toyoshi Satow, chancellor of Webster's partner J.F. Oberlin University in Tokyo, Japan, and past president and chair of the board of the International Associate of University Presidents (IAUP).
Satow's belief in the role of global education to make a difference helped make Webster University and J.F. Oberlin natural partners for study abroad and exchange. As part of the Webster-J.F. Oberlin partnership established in 2011-12, nearly 60 Webster students have studied in Tokyo. Another 30 from J.F. Oberlin have attended Webster, while students from universities in the Webster International Network Schools (WINS) program have studied in Tokyo from institutions like Marymount University, Geneva College and Sacred Heart University.
Under Satow's leadership, J.F. Oberlin has endeavored to serve as a foundation on which to build a peaceful society, with a philosophy to foster global citizens who spread the ideal of "Gakujijijin," or "learning in order to be able to help others."
During Satow's time as the president of the IAUP, he brought together university leaders from around the world to facilitate and enhance global higher education. He also led advocacy efforts in front of international organizations to emphasize the role universities play in enacting positive change and service to communities. His personal diplomacy brought many university leaders into the IAUP network, including Webster University Chancellor Elizabeth (Beth) J. Stroble.
"Dr. Satow was a treasured colleague and friend to so many of us," said Webster University Chancellor Stroble said. "A gracious host for events as grand as the IAUP Triennial Meeting he hosted in Yokohama or for a small gathering of colleagues when we visited Tokyo, his was a spirit of welcome. He led the IAUP with grace and charisma to elevate higher education's voice and strengthen its impact, while advancing the association's mission to build peace and international understanding through education. He will be dearly missed."