In the News: Dance the Vote on CBS; Technology in Charleston; Suggs Scholar Describes the Call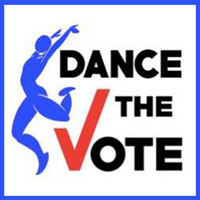 Dance the Vote, a St. Louis-based arts and civic engagement initiative founded by Webster aluma and theatre artist and activist Joan Lipkin, will be featured in on the CBS program, "Every Vote Counts: A Celebration of Democracy," a televised nationally on Thursday, Oct 29, at 8 p.m. Central on CBS and other platforms.
Following their first performance outside Vintage Vinyl, an iconic record store in St. Louis, Dance the Vote attracted over one thousand people at the midterms at the Missouri History Museum for a community dance class, performances by diverse dance companies, spoken word artists and singers about the history and importance of voting, paired with voter registration.
When the pandemic hit and following the deaths of Breonna Taylor and George Floyd, they pivoted to commission and center dance videos, predominantly by choreographers of color. The themes continue to be about the history and significance of voting, as well as what issues might compel someone to vote including: climate change, racial justice, disability, incarceration, gender equity, women's suffrage, the wall, and more.
The pieces were released in a series of weekly episodes in pairs of two or three dances, and each episode included information on how to register to vote, check voter registration, and the phone number for the election protection hotline for questions or issues at the polls.
The pieces may be seen on YouTube, Instagram (@dancethevotestl), Facebook (@DanceTheVoteStl), Twitter (@DanceTheVoteStl), and Vimeo as well as their website www.dancethevotestl.org.
This summer, Dance the Vote and Webster University partnered to offer a competition for college students throughout the United States honoring the late congressman John Lewis, called "Make Good Trouble: Why John Lewis Inspires Me to Vote." Cash awards have been issued in several categories including mixed media, video, dance pieces, painting, collage, and photo essay.
Lipkin was also interviewed about the project on "The Pulse of St. Louis," which also mentioned Webster University's partnership on the voter initiative. That interview can be seen online, starting at about 12:35 here.
Charleston Featured for Technology during Pandemic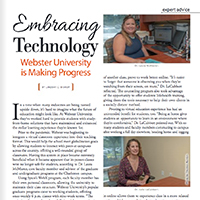 Webster faculty members at the Charleston, South Carolina, location were quoted in a feature in Mount Pleasant Magazine about how Webster's programs incorporate technology and adapt to virtual environments and student needs during the pandemic.
The magazine has a print circulation of 10-20,000 per issue, and a digital version can be found here. See the article beginning on page 38.
Professors Laura McMaster and Julie LaCubbert also discussed maintaining academic quality and excellence in the business and counseling programs offered at this location.
"We haven't slowed down," McMaster said. "We rolled out a new MBA curriculum, and we have continued to enhance the rigor of our classes to ensure students can take their degrees out into the world and be recognized as substantive individuals, ready to take on challenges in the Lowcountry."
Suggs Scholar Describes Moment She Found Out about Scholarship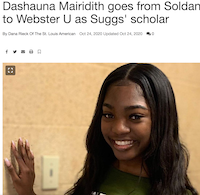 Webster student Dashauna Mairidith was featured in the St. Louis American as a recipient of the Dr. Donald M. Suggs Scholarship, with quotes from her family and her high school teachers.
Mairidith is pursuing a biological science degree with an emphasis in health and sciences. "I know that I want to be a medical doctor," she said. "Now I am just exploring different options as to what I want to do."
She described being in the car with her mother when she received the call from Webster about the scholarship -- making her and her parents ecstatic
"We were just so very excited," her mother said. "So happy for her, as well, as she was very excited and happy. And Dashauna is not one that shows a lot of emotion in regards to crying and things like that, but when she hung up from that call, tears begin to flow."
The article also references this year's other nine recipients of the scholarship.