In the News: Chess team, Sanders, marketing students, Cross
Recent news media coverage involving Webster University community members includes:
Winning Marketing Students on Great Day St. Louis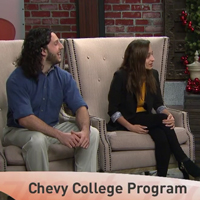 Webster University marketing students Kristina Ingersoll and Andrew Groom were on CBS affiliate Channel 4's Great Day St. Louis Wednesday morning to discuss a marketing competition they won in the St. Louis area.
The competition was part of a School of Communications Advertising and Marketing Communications class project directed by Terry Sullivan, assistant professor of advertising and marketing in the School of Communications.
In the project, students teamed up with local Chevy dealers, marketed Chevy vehicles to area millennials and also donated more than 700 pairs of socks to the homeless as part of the marketing plan.
Competing against teams from other universities, Webster's students won the competition and were presented with a trophy last week.
Polgar, Chess Team Live on Fox
Chess coach Susan Polgar and two members of the Webster University chess team appeared live on FOX 2 in the Morning Wednesday to discuss Webster's chess program and the benefits of chess. The team is preparing for competition in this month's Pan-Am Championship, which they will attempt to win for a record-breaking seventh consecutive time.
During the live segment, Webster students and chess team members Vasif Durarbayli and Aleksandr Shimanov engaged in a "blitz" competition. Watch their appearance here:
Sanders Profiled in New African Woman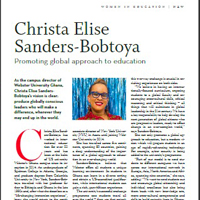 Webster Ghana director Christa Sanders was profiled in New African Woman magazine, a prestigious magazine covering the entire African continent and its diaspora.
Published in the United Kingdom, the bi-monthly magazine focuses on African women as trailblazers and game changers in a number of sectors including education, with the current holiday edition featuring former CNN anchor Isha Sessay on the front cover.
In her interview, Sanders explores a range of pertinent topics including her diverse, multicultural upbringing which has given her special insight into the field of global education.
She discusses the unique position of Webster University and the Ghana campus, which is the only institution of its kind in the sub-region offering U.S.-accredited degree programs while also providing students an opportunity to gain a rich Pan-African experience.
Sanders highlights Webster's international network and notes that to change the perspective of Africa globally, there is the need to expose students from other continents to Africa and vice versa, creating a two-way exchange which is crucial in enriching student experiences on both sides.
"Part of our model is to send students to different campuses we have across our international network in Europe, Asia, North America and Africa... We want to send students out and encourage global citizenship and individual excellence but also bring them back with new knowledge, more cross cultural competencies and skills to build capacity here in Ghana, the sub-region and across the African continent."
Cross on Vote in County Prosecutor's Office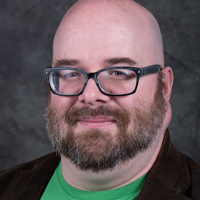 Remy Cross, assistant professor of criminology and chair of the Department of Anthropology and Sociology in Webster's College of Arts & Sciences, was interviewed by the Associated Press about a vote by employees in the St. Louis County Prosecutor's Office to join a police union. The story was picked up by numerous media outlets in the region.
The vote came just a couple of weeks before the first-ever African-American person elected as St. Louis County prosecutor, Wesley Bell, replaces Bob McCulloch.
Cross called the union vote "a shot across the bow" aimed at showing Bell that his staff supports McCulloch's hardline approach to dealing with crime.
Cross characterized the message of the vote this way: "You can come in and you can say you're going to shake things up, you can say you're going to change stuff, but maybe not."