In the News: Webster's champion chess team on TV, radio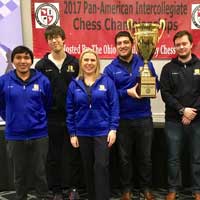 Webster University's national champion chess team just became the first school in collegiate chess history to win six consecutive Pan-Am tournaments.
This week they were featured in a segment on NBC affiliate KSDK-TV (channel 5) as well as on KTRS 550 news radio, which also noted that one of Webster's squads was the only all-African American one in the tournament.
KSDK sports director Frank Cusumano narrated the television segment:
"It's an international program, they literally recruit from all over the world to come to Webster. … They have about 14 countries represented in this incredible program," said Cusumano.
"We train together, we eat together, we travel together, we celebrate holidays together and of course we fight together, and those are the secrets of our success," said head coach Susan Polgar, who was interviewed for the segment.
Watch the full feature online here at ksdk.com