In the News: Chamber Singers, Dean Cornell live; Leiden Digital Starters
Recent news media coverage involving Webster University community members includes:
Chamber Singers Perform on Air
The Webster University Chamber Singers kicked off the holiday season by performing live on air twice Friday morning on Fox 2 News, ahead of the Department of Music's annual "Gift to the City" concerts.
Led by Professor Trent Patterson, who was also interviewed for the segment, the group is also promoting their upcoming "Gift to the City" concerts in Belleville, lllinois , Dec. 8, and downtown St. Louis on Dec. 9.
Watch their performance and Patterson's interview here:
Cornell Reads, Talks Child Literacy On Air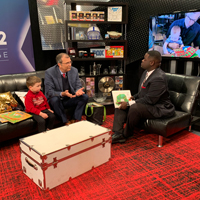 Tom Cornell, interim dean and professor in the School of Education, read a children's book on air at Fox 2 Sunday morning, then discussed what to look for when buying books for toddlers as they learn to read.
Cornell talked about how reading to young children is important for their language and communication development.
The child Cornell read to was also a special guest: his grandson, Ian. The two bond through reading with a "Book of the Month" club.
Watch the segment at Fox2 here.
Leiden's 'Female Digital Starters' in Dutch News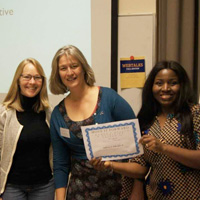 The "Move it Forward: Female Digital Starter" weekend hosted this month by Webster Leiden, in collaboration with Digital Leadership Institute (DLI), Google, and Leiden Expat Center, was featured by Dutch News.
Around 30 female students, entrepreneurs, and professionals joined the event to improve their digital skills and test their entrepreneurial ideas.
Read the Dutch News article here.