Webster in the News: Student move-in, Craft's film, Leopold, Butz
Recent news media coverage featuring Webster University community members includes:
Leopold on Candidates Referencing Michael Brown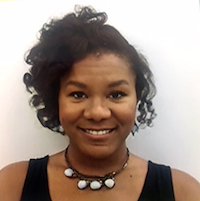 Joy Leopold was quoted by Politifact in a story that examined how some political candidates are referencing in campaign speeches the fifth anniversary of the shooting death of Michael Brown.
Leopold, a Webster University assistant professor of media communications who has studied the Brown case, said it's not uncommon for smaller issues such as legal terminology to crop up in controversial cases like this.
"Focusing on the language opens up the opportunity for some to discredit the conversation about police brutality and the criminal justice system in general," Leopold said.
Read the full story at Politifact here.
Craft '20 Discusses 'Diagnosis' Film on Autism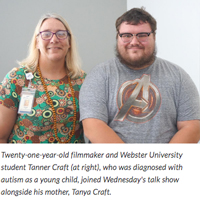 The St. Louis Public Radio program "St. Louis on the Air" interviewed School of Communications student Tanner Craft, who discussed his journey through the classroom after he was diagnosed with autism spectrum disorder.
Craft and his mother, Tanya, spoke with host Sarah Fenske about his film, "Diagnosis," which looks at how a mother and son's journey from early diagnosis, to learning more about autism and existing resources, to finding new ways to connect with one another and thrive.
Craft, who is headed into his senior year of studies at Webster University, said the idea for "Diagnosis" grew out of his involvement in a scriptwriting class at Webster. The film, which he called a tribute to his mother, recently screened at the 2019 Whitaker St. Louis Filmmakers Showcase.
"I was partially drawn [to writing the script] from the saying – a lot of comedians, I know, say this – which is, 'Tell the jokes that make you laugh,'" he explained. "So I guess [it was], 'Write the stories that you know.' Sort of the same realm."
During the interview, Craft mentioned his studies at Webster and the influence of faculty. The interview can be heard online here.
Student Move-in on Fox2, KMOV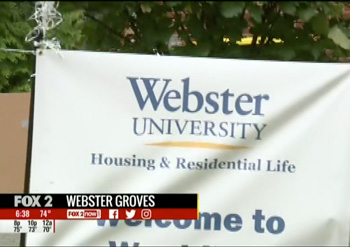 Local St. Louis television news coverage featured Webster University students moving into campus this week.
"It's such a special day as Webster University students move back in today." said CBS affiliate KMOV's 6 a.m. traffic report at they said to expect heavier traffic near popular college student stock-up stores.
Fox affiliate Fox2 news also mentioned Webster, and shot footage on campus, noting the different days for international student orientation, new student move-in, and the fact dozens of alumni returned to campus to help fellow Gorloks move in.
Norbert Leo Butz '90 Profiled by Bustle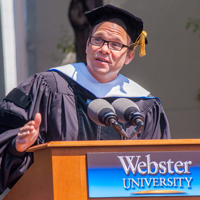 Alumnus Norbert Leo Butz '90 was profiled in Bustle magazine after the first season of Fosse/Verdon, was well-received by critics and is airing on BBC.
"Butz has several impressive accolades to his name, including two Tony Awards for his on-stage roles in Dirty Rotten Scoundrels and Catch Me If You Can — and 2013, the actor received an honorary degree from Webster University in his hometown of Missouri."