In the News: Schuster on economy, Batora on Slovakia, Smith on social media, Cybersecurity ranking
Recent news media coverage featuring Webster University community members includes:
Schuster Discusses Skills Gap, Economy on Channel 9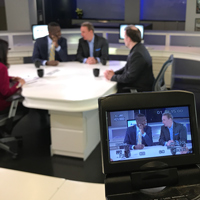 Provost, Senior Vice President and Chief Operating Officer Julian Schuster was a guest for a "Living St. Louis" special on PBS affiliate Channel Nine.
"The Skills Gap: A Living St. Louis Special" focuses on educational paths to address the region's over-demand and under-supply of "middle-skills" jobs. Schuster was invited for his expertise in economics and perspective on the regional economy
Also appearing on the panel was Scott Draconic, director, St. Charles Workforce Development, and Art McCoy, superintendent, Jennings School District.
The program originally aired Monday evening and is now available for viewing online here.
Webster Named Top Cybersecurity Program
Webster University's Cybersecurity Program was named one of the top programs in the nation, according to OnlineMBA and as reported in a St. Louis Business Journal article.
Learn more about Webster Cybersecurity programs and applications here.
Bátora on Austrian TV during Slovakian Protests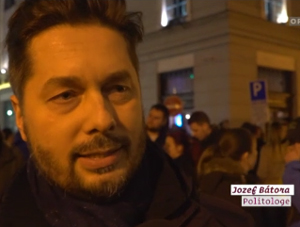 Jozef Bátora, professor of international relations at Webster Vienna, was interviewed by Austrian national television ORF's "Kulturmontag" coverage of the demonstration in Bratislava, Slovakia, on Friday, March 16.
During the event, an estimated 65,000 Slovakians protested against the post-communist system after a journalist who was uncovering the corruption of the government and its ties to the mafia was murdered.
Watch the segment with his interview (in German) here, and learn more at Webster Vienna.
Smith in USA Today, Radio 63119 on Social Media
Julie Smith, visiting instructor in the School of Communications, was quoted by USA Today about how a white supremacist web site fabricated a story about a Muslim man and the fall-out that occurred because of the social media push of the fake information. The story was picked up by several newspapers and USA Today affiliates, including this one.
"Now misinformation can travel at the speed of light, especially in social media circles that act as echo chambers, because we rarely communicate with people who think, believe or vote differently than we do," said Julie Smith, a visiting professor at the School of Communications at Webster University near St. Louis.
Smith uses a fake tweet from Anglin, The Daily Stormer founder, as a case study in her media literacy class.
Smith will also appear on Webster Groves-area Radio 63119 (92.9 FM) today (Friday, March 23) at 1 p.m. as part of a discussion on the Cambridge Analytica/Facebook data privacy issues that is dominating the news this week.