In the News: Stroble, Flewellen on diversity; Rodney on school week; Polgar on chess
Recent news media coverage involving Webster University includes:
Stroble, Flewellen on Diversity and Inclusion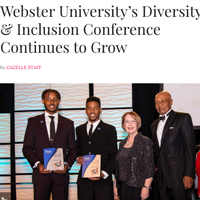 Webster University President Elizabeth (Beth) J. Stroble and Chief Diversity Officer Vincent C. Flewellen were interveiwed in Gazelle magazine discussing Webster's diversity and inclusion efforts and this spring's annual conference.
"Webster has an incredibly diverse group of constituents, and reaches so many groups, not only in St. Louis, but around the world. It's important that we continue to address the wide range of topics that fall under the umbrella of diversity and inclusion," Flewellen said. "We understand that people are concerned about and driven by current events and political decisions, which create a fluid and ever-changing environment. Being able to address these evolving concerns each year at the conference, from immigration issues one year, to Title IX the next, is a great part of what makes this conference a success."
"Webster's ability to meet the needs of – and respond to the concerns of – our community helps us succeed," Stroble said. "This is another way for us to express our commitment to diversity and inclusion and educate each other to create positive change. The conference is one part of our larger mission, but it is a part that we're all very proud of creating."
Read the full story in Gazelle. The next annual diversity and inclusion conference takes place Feb. 26-28 at the main campus in Webster Groves.
Polgar, Chess Team on Live TV after Pan-Am Win
Webster chess team head coach Susan Polgar was interviewed by Fox 2 while two chess team members played live on air after Webster's seventh consecutive Pan-Am Championship.
"It was a tough fight as always, and came down to the last match," Polgar said. "We're very proud of our students as they battled, did their best, and it worked out again." She also helped educate viewers on the etiquette for watching live chess as a spectator.
Rodney Discusses Strategy of 4-Day School Week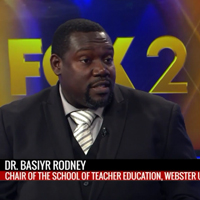 Basiyr Rodney was interviewed on KMOX 1120 AM radio and on Fox 2 News about school districts that have moved to a four-day week. Warren County, about 60 miles west of St. Louis, is the latest Missouri district to vote for the change in hopes of retaining teachers and saving money.
Media asked Rodney, associate professor and department chair of Teacher Education in Webster's School of Education, about the theory and potential impact of such moves.
"There are a couple of challenges because you're shortening the school week, and we know that academic learning time is of real value for students that need it the most," he said. "Which is why one of the reasons that districts considering this have to include the community; community engagement is important because that extra day can be used for enrichment services and to bring support services to the community."
Watch the full Fox2 interview here. His KMOX interview aired on the radio during Monday evening and Tuesday morning commute times.