In the News: Diversity and Inclusion Conference, Booker, Polgar
Recent news media coverage of Webster University includes:
Diversity and Inclusion Conference Coverage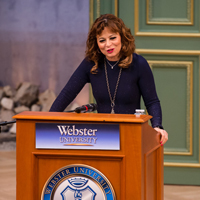 Webster's fourth annual Diversity and Inclusion Conference drew coverage on several St. Louis outlets this week, and viewers can tune into KPLR Channel 11 this weekend to catch an interview with Morgan Stanley's Marilyn Booker, who delivered the keynote on Thursday.
You can catch that interview on air during the 7 p.m. newscast on KPLR on Saturday, March 2, or to the 10 a.m. newscast on Fox 2 news Sunday, March 3. It will later be uploaded to the station's YouTube channel.
Booker was also interviewed by Fox2 about the conference and the need for financial literacy and planning education.
Watch that conversation at Fox2 here.
Also this week, Booker was interviewed by KMOX 1120 AM, which aired stories about the conference during morning commutes this week. She discussed how her firm pioneered programs to recruit underrepresented populations to the finance industry, which had an impact beyond Morgan Stanley: "As we started to bring very talented people of color to Wall Street, other firms took notice and repeated what we were doing."
See photos from the conference in this Facebook album.
Polgar: Breaking Barriers and Inspiring Others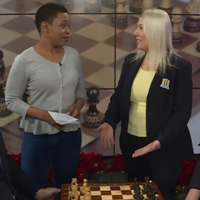 WFMZ News in Pennsylvania aired a feature story on Webster chess head coach Susan Polgar, about life lessons and barriers broken as the world's first female grandmaster, as well as the work she does to inspire young girls around the world to follow in her footsteps.
Those girls include Luisa Mercado, who is quoted in the story after graduating from Webster in May, "a first for the family she left behind in Colombia."