In the News: $2.7M DOE grant, Psihountas, Mitchell
Recent news media coverage featuring Webster University community members includes:
Feature on $2.7 Million School of Education Grant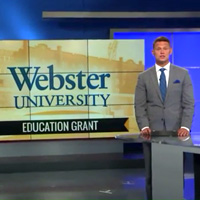 Fox's St. Louis TV affiliate Fox2 (KTVI) came to campus Monday to cover the announcement of the $2.7 million U.S. Department of Education grant for the Webster University School of Education to train local teachers for working with English language learners.
Teachers and students in three area school districts -- Parkway School District, Ritenour School District, and St. Louis Public Schools -- are part of the program.
In the two-minute segment, Fox interviewed DJ Kaiser, associate professor and coordinator for Teaching English as a Second Language in Webster's School of Education, and Julian Schuster, Webster's provost, senior vice president and chief operating officer.
Schuster said it's a continuation of the university's effort to reposition themselves and build the community. "We are going to double the number of teachers who will be engaged in teaching English as a second language in our area."
"St. louis has been a welcoming community to immigrants and refugees, so that has helped increase the numbers, which has been a great thing," Kaiser said. "Now we just need support for these teachers."
Watch the segment at Fox2 here.
Psihountas on Auto Industry Sales, Purchasing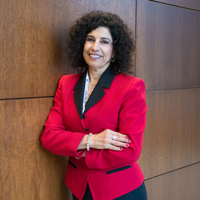 Debbie Psihountas, professor of finance and director of the MBA program in Webster's George Herbert Walker School of Business & Technology, was interviewed in an "Ask the Expert" feature at WalletHub about auto industry sales and the ideal consumer approach to buying a car.
Given current steady borrowing rates, she said consumers should "purchase either towards the end of the model year, when [dealers] are anxious to get rid of 'older' models, or at the end of the calendar year, when there may be tax reasons why dealers are hoping to get cars off the lot."
Read the Q&A with Psihountas here.
Fine Arts Alum Advice to Students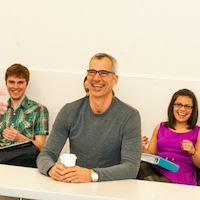 Webster University alumnus Jerry Mitchell was featured along with his alma mater in Playbill's piece, "15 Broadway Stars Share Their Best Advice for College Freshmen."
Said Mitchell:
"Say yes to everything. Get involved. Now is the time to cement what it is you LOVE and what it is you are certain you do not. Appreciate the things you do not love by experiencing them, understanding them and then saying 'not for me.' This will only help you focus on what it is you want even more and build your determination to make it happen for yourself! Fullout or get out!"
Read the entire feature with Mitchell and other stars here.
Visit experts.webster.edu for a list of Webster University faculty media experts.