In the News: Ghana event, Vienna photos, ELL teachers, S.C. professional counseling
Recent news media coverage featuring Webster University community members includes:
Webster Vienna: in Pictures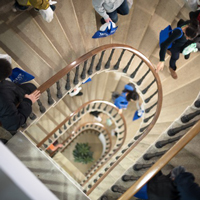 Vienna Würstel Stand, an English-language magazine, stepped inside the Palais Wenkheim at Webster Vienna for a photo of these palace spaces when no one is in them:
"It was somehow eerie being alone in a place that fills everyday with a current of people buzzing with so many ideas, hormones, and so much appetite for the NOW and their future that looks so gloriously untouched.The building that houses such a crowd has a huge responsibility.
"The photographs that we captured of the Webster University building reminds us of a blank page – white, neat, untouched – which we think is rather fitting for how this Uni period of life feels."
See the photo essay at the magazine's website here.
Ghana Coverage of 'Celebrity, Complicity and Community' Event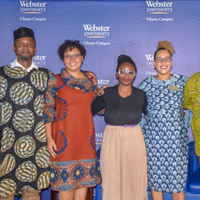 Numerous media outlets in Ghana covered Webster University's lecture "Celebrity, Complicity and Community: Making Sense of 'Surviving R. Kelly,'" held on the Ghana campus last week.
The lecture focused on the similarities on how the R. Kelly story is being covered in the corporate mass media and in American "black media."
A panel of three Webster University lecturers at the Ghana campus - Kobina Ankomah-Graham, Erinn Ransom Ofori and Eli Tetteh - explored the theme at the 14th public lecture held at Webster University's campus in Accra.
Collectively, the panel of three pop culture scholars and two invited prominent Ghanaian feminists, Kinna Likimani, director of Special Programs at Odekro, and Nana Akosua Hanson, pointed out society's collective complicity in failing to hold celebrities to account.
One example of news coverage can be found here at Ghana MMA.
ELL Certification Education Students on KSDK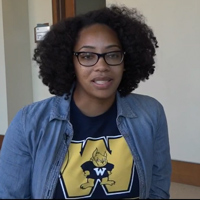 NBC affiliate KSDK (Channel 5) was on the Webster Groves campus Saturday to speak with and view presentations by graduate students in the first two cohorts of local teachers in the English Language Learner certification program. Data from the Missouri Department of Elementary and Secondary Education show a more than 200% increase in the number of ELLs in Missouri public schools since 2000.
Webster's program is supported by a National Professional Development (NPD) grant from the U.S. Department of Education's Office of English Language Acquisition. The five-year, $2.7 million grant will allow more than 100 St. Louis area public school teachers from Parkway Schools, Ritenour School District, and St. Louis Public Schools to complete the coursework required by Missouri's Department of Elementary and Secondary Education for English Language Learner (ELL) Certification.
"I feel like we really need to work hard to make sure we're meeting the needs of not only our native speakers but the ones that are coming into St. Louis," said James Cohee, one of the students in the program who is a certified teacher in the nearby Parkway School District. "It made me be more aware and empathetic to students and acknowledging their culture."
Watch the segment and interviews at KSDK here.
Smith, George on 'Our Voices Our Stories' Podcast
Alexanderia Smith and Rebecca George, faculty in Webster's Professional Counseling program in South Carolina, were guests on Visibility's "Our Voices Our Stories" podcast series.
This "On Being Our Sisters' Keeper" episode focused on how women of color act, react and interact with other, embrace each other and move within and around each other personally, academically and professionally. They also covered mixed race identity, interracial and intraracial unity among women of color, the need to protect, facing "the evil eye" and glares, negativity, and issues experienced by women of color in the workplace.