In the News: Bode '03 on transferring, Alvarez '16 'Hot New Face,' Smith on literacy
Recent news media coverage involving Webster University community members includes:
Bode '03 Discusses Transferring to Webster on KTRS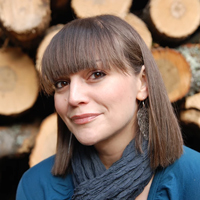 Erin Bode '03 praised Webster University and discussed the benefits of her decision to transfer to Webster as an undergraduate, during a 10-minute interview on KTRS 550 AM's Guy Phillips Show, where she discussed her musical performing and recording career. She recently released her eighth album, "Here and Now."
During the Aug. 28 interview, Bode discussed what led her to St. Louis:
"I was looking for a smaller, more intimate environment. I wanted a little more intimate experience. I knew about Webster University, so I transferred there [from a large state school], and I'm really glad I did, because I had some wonderful teachers. I came here and I've been here ever since. I got started playing around town, starting a band, got a record contract.
"I was studying classical music, when I came [to St. Louis] I was in the opera program at Webster. I joined the St. Louis Symphony Chorus, so I got to be on state with the Symphony."
Álvarez '16 a 'Hot New Face 2019'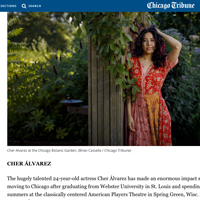 Cher Álvarez '16 leads the Chicago Tribune's "Hot New Faces 2019: 10 new Chicago actors you should know" listing. Here is what the Tribune wrote about the Conservatory of Theatre Arts alumna:
"The hugely talented 24-year-old actress Cher Álvarez has made an enormous impact since moving to Chicago after graduating from Webster University in St. Louis and spending two summers at the classically centered American Players Theatre in Spring Green, Wisc. Not only has Álvarez quickly grabbed major roles at the city's leading institutions — Steppenwolf Theatre Company, Goodman Theatre, Writers Theatre — she has demonstrated an extraordinary range in her acting, proving herself capable of intense dramatic work and off-beat comedy.
"She says she was raised in both California and Colorado, but has quickly found a creative home in Chicago's famous theater scene. Her big test is to come this fall when she plays Nora, no less, in a taut new adaptation of the Henrik Ibsen classic at Writers Theatre in Glencoe, all about a woman who slammed the door on a marriage to find herself."
Smith on Media Literacy for Students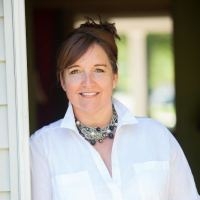 Julie Smith, instructor in the School of Communications, discussed media literacy during an interview on the podcast, "Moxie Minutes with Gia," a parent-focused podcast for "how to navigate parenting in the tech crazed world our children live in."
"Media literacy is the act of actively questioning the 11 hours a day of electronic mass media messaging that the average American consumes," Smith explained as they began their discussion.
"It's not about bashing media or avoiding it, it's about knowing how to outsmart it. It's a 21st-century survival skill."
In addition to teaching media literacy at Webster, Smith also visits local schools to discuss these skills with teachers and young students.