In the News: Ghana featured; Falconer on attention; Smith on 'fake' news
Recent news media coverage featuring Webster University community members includes:
Falconer on Attention Spans at St. Louis On the Air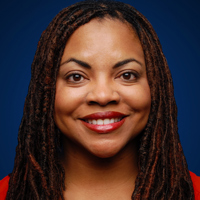 Jameca Falconer was a guest on NPR affiliate St. Louis Public Radio's "St. Louis on the Air" Friday to discuss attention spans and how they impacted the lengthy impeachment proceedings in the U.S. Senate.
Falconer joined host Sarah Fenske to discuss the different types of attention — such as sustained and divided — implications of limited attention spans, and how that can lead to hasty or irrational decision making. Despite whether or not the senators intentionally or subconsciously miss information, there's a limit to how long one can pay attention, Falconer said.
She is a professor of behavioral analysis in the Webster University School of Education, and understanding the process of paying attention is among her specialties.
Listen to her appearance on the show here.
Ghana Featured for Outreach, Noted in Op/Ed on Importance of Africa for St. Louis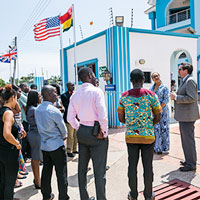 Webster's campus in Accra, Ghana, was featured in a story about a master class it held for the community on how to market locally-made goods.
"The conversation on citizens needing to create quality made-in-Ghana products for the market ages is decades old, as far back as Dr. Kwame Nkrumah's regime, and continues to be a prominent issue in modern times," the story explained.
Read more and see photos at the Ghana news site, MyJoyOnline.
Separately, Webster Ghana was cited in a column by Judd Devermont, director of the Africa Program at the Center for Strategic and International Studies in Washington, D.C., as evidence of Africa's importance and ties to the St. Louis region's academic, economic and cultural landscape.
"The experts might try to sway the American public on more weighty arguments about demography and national security, but it is not necessary. St. Louis' ties to Africa have increased the city's wealth, deepened its academic achievements, raised its foreign policy profile, and added to its vibrant cultural life. That's reason enough."
The column appeared in the St. Louis Post-Dispatch and can be read online at stltoday.
Smith on 'Fake News,' Combatting Misinformation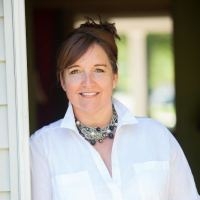 Julie Smith was interviewed by Thompson Coburn about "fake news," Russian misinformation, and what average citizens can do in the face of today's increasingly sophisticated misinformation campaigns.
The author of "Master the Media: How Teaching Media Literacy Can Save Our Plugged-In World" is a frequent presenter of media literacy workshops in addition to her teaching in the Webster University School of Communications.
"I think the greatest danger is that we are losing our idea of what it means to be informed," she said. "We are more interested in what we believe rather than what is true, which means we are living in a post-truth world. Of course, election seasons amplify the volume of information and then inflate the passion of its spread."