In the News: Global Citizenship Program spotlight; Link on careers
Recent news media coverage featuring Webster University includes:
Webster's GCP Featured by AAC&U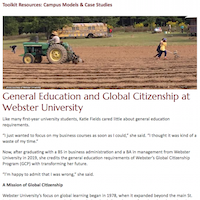 Webster's Global Citizenship Program (GCP) was featured as the top story in the latest newsletter of the Association of American Colleges & Universities (AAC&U).
The story shares insights from Webster faculty members Bruce Umbaugh, Stephanie Mahfood, and Julianna Sandholm-Bark about how the general education program was designed and implemented, with examples of courses that enable learning outcomes across the curriculum.
The story also shares the experience of Katie Fields '19, a recent graduate with a BS in business administration and a BA in management who says she "feel(s) like a totally different person because of the GCP courses I took. ... Because of the GCP, I was able to match my skill set with my passions, find my dream job, and make connections along the way."
Read the full story on Webster's GCP here.
Link on the Air Discussing Career Services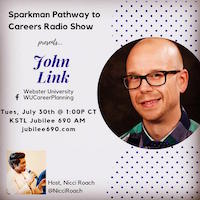 John Link, director of the Career Planning & Development Center (CPDC) , was interviewed live on 690 AM KSTL Wednesday, when he discussed career development assistance after graduation.
Link also talked about the importance of students utilizing university career center services early and often during their college career -- not just as they are preparing to graduate. He shared information about Webster University's individual services, programs and events, and on-campus recruiting.
Learn more about Webster's CPDC services for students and alumni here.