In the News: Holiday card, sax ed, Orlando move, Vajzovic, Cosic, Stroble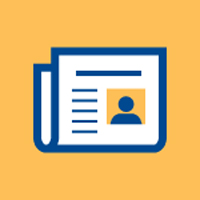 Recent news media coverage involving Webster University and Webster community members includes:
Vajzovic in The Economist on Bosnian Immigration to STL
Ibrahim Vajzovic, entrepreneur and adjunct faculty member in the George Herbert Walker School of Business & Technology, was quoted in The Economist for an article about the mostly Muslim Bosnian refugees who relocated to the United States in the mid '90s and transformed a neighborhood in south St. Louis.
Cosic on Fox 2 for 'South Slavic Requiem'
One refugee of that war, Zlatko Cosic, a video artist and adjunct faculty member in the School of Communications, was interviewed by Fox 2 News about "South Slavic Requiem," his video piece commemorating the 20th anniversary of the end of the war in Yugoslavia and related social and political issues today.
The exhibit is on display at the Bruno David Gallery until Dec. 19.
Braig and Demarinis on Public Radio about Sax, Jazz Education
Christopher Braig, jazz musician and adjunct faculty member in the Leigh Gerdine College of Fine Arts, was profiled for his use of technology in music teaching in this story on St. Louis Public Radio. Jazz Studies director Paul DeMarinis was also quoted in the piece.
"He can get music out of anybody," DeMarinis said. "Braig is particularly good at dealing with students who are interested in music but have very little experience. He's enormously patient, very creative and his approach is collaborative. He's about getting them to build a creative space and take responsibility for the music coming out of their horn."
Orlando Downtown Relocation in Sentinel, Business Journal
Webster's announcement that it would combine its Orlando locations into a new downtown space made news in the Orlando Sentinel and the Orlando Business Journal.
"This will bring more resources downtown for utilization of local businesses, and will bring more students to the area who can add to the foot traffic of downtown Orlando," the Business Journal wrote.
Stroble in Chronicle's 'What I'm Reading' Series
Webster University President Elizabeth (Beth) J. Stroble has a column in the The Chronicle of Higher Education's popular "What I'm Reading" series. Her piece appears online now and is in the Dec. 18 print edition. In it, Stroble discusses David Whyte's Consolations: The Solace, Nourishment and Underlying Meaning of Everyday Words.
"With the passion of a poet and the precision of a marine zoologist, Whyte reveals to me word meanings that I now recognize in my experiences but that had not previously been apparent to me," she writes. "His short pieces work best in single sittings, each to be pondered and relished. Among the 52 words he describes, in separate chapters, are ambition, genius, joy, longing, pain, regret, and vulnerability."
Webster Holiday Card on 2016 "Best Of" List
Webster's holiday card from the president and provost was featured on College Web Editor's "best of" list. Watch the video, add your #websterkindness story, and share via social media at webster.edu/holidays.