In the News: Stroble in Ingram's, CBS St. Louis
Recent news media coverage involving Webster University community members includes:
Stroble Named to Ingram's '50 Missourians You Should Know' for Advocacy on Private College Education
Webster University President Elizabeth (Beth) J. Stroble was named to Ingram's annual "50 Missourians You Should Know" list, which identifies key leadership figures in Missouri business, education, philanthropy and non-profits, arts, entertainment, sports and other sectors.
The list's profile of Stroble highlights her background and in particular notes her support for issues affecting independent colleges in the state. It reads in part:
"It's hard to imagine a bigger advocate for private colleges in Missouri than Elizabeth Stroble, president of Webster University since 2009. The numbers come with ease: Private colleges, she says, "enroll more than 35 percent of all Missouri students; they award 46 percent of all bachelor's degrees and 65 percent of master's degrees." Their students typically graduate faster, too—at zero cost to the state in terms of operating or capital dollars, she notes. Four-year graduation rates, minority graduation rates—there are ample reasons to feel bullish about what's going on with private colleges today."
The Kansas City-based business magazine notes, "The 50 Missourians You Should Know has produced an annual group of leaders who continue to amaze with their command of issues facing the state, with their personal stories of achievement, sometimes against enormous odds, and with inspiration and guidance that can apply to almost any business."
See the full list and profile at Ingram's here.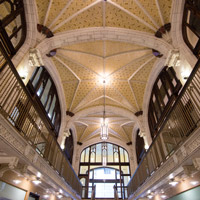 KMOX: 'Downtown St. Louis is Alive and Well'
Separately, Stroble was quoted in a KMOX/CBS Radio feature by Debbie Monterrey on why downtown St. Louis is booming. The urban center took a hit with the January announcement of the departure of the NFL's Rams, who drew people to the city for eight to 10 games each year.
But the area is home to many more relevant and culturally significant events, architecture and institutions, including the National Blues Museum which opens this spring.
Among the highlights, Monterrey called out the re-opening of the historic Arcade Building, which is the new home for Webster University's Gateway Campus. She quoted Stroble discussing the move as a continuation of Webster's longstanding commitment to downtown:
"We know that vibrant and thriving cities are anchored by institutions that make investments in the education, health, recreation, and working and living environments of city residents and employees." Stroble continues, "Webster is proud to open this new site for our Gateway Campus in an historic building that offers academic programs downtown in the center of living and learning."
Read the full story at CBS St. Louis here.