In the News: Link on job searches in pandemic; nurses who sing and shine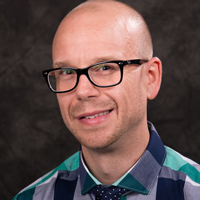 John Link and Lisa Camp were interviewed about the shifting job market for new graduates amid the pandemic on "St. Louis On The Air," the public affairs program on St. Louis Public Radio and its regional affiliates.
Link, the director of Webster's Career Planning & Development Center, anticipated the market shift as the coronavirus pandemic emerged, and mobilized the CPDC to create a resource site for graduates, "Graduating in the Age of COVID-19." During his interview, he offered his expert perspective and tips for new graduates.
Camp, who just graduated with a degree in media communications, shared her experience this spring as things changed quickly. She remembers thinking in February, "this is a great time to be graduating, because there are so many positions."
Link said many students the CPDC have had increased anxiety over their job-search prospects due to the pandemic. "Our advisors are connecting with students, but there is a lot of uncertainty and we want them to know their concerns are validated," he said. "There were internship offers and job offers rescinded, but we are now seeing a return of positions opening back up. Employers are still interested in hiring creative young minds to meet the challenges of tomorrow."
"Even though there are hiring freezes and furloughs, there are many employers out there that may be aligned to your specific goals. So maintaining that list of opportunities, to continue your job search and persevere through these challenges, is the best piece of advice we give to graduates at this time."
Listen to the full interview and story at St. Louis Public Radio.
Webster Nursing Student Sings to Patients
Current Webster nursing graduate student Rodney Armstead was featured in the St. Louis Post-Dispatch Friday for singing to patients at Barnes Jewish Hospital in order to keep them calm and less worried.
"Armstead calls his career at Barnes a 'butterfly effect,' as he started as a transporter, turned patient care tech, then later evolved to a vascular PCU (progressive care unit) nurse. In fact, his nursing career is still evolving as he is currently pursuing his master's degree in nurse education at Webster University."
"I make up songs as I'm working, and the patients are cracking up laughing at me the entire time," he said. "A lot of them tell me that it helps them get their mind off the things they are going through."
Read the full profile in the Post-Dispatch here.
Nursing Alumna Honored for Work as Heart Transplant Coordinator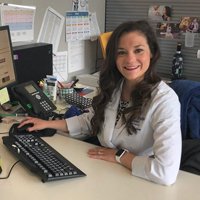 Nursing program alumna Emily Wacker was profiled in the St. Louis Post-Dispatch and recognized for her outstanding work at Barnes Jewish Hospital as a heart transplant coordinator.
In her role, Wacker, RN, MSN, "streamlines the entire process of her patients' transplant journey: initial visits, preparations, the transplant itself and continuous follow-up care."
She also discussed the turns her career has taken in nursing. "I never thought I would do cardiology," she said. "But here I am with 11 years of cardiac surgery/cardiology and now cardiac transplants under my belt."