In the News: Hatton on social media, Ankomah-Graham on feminism in Ghana, Tyler '18 to L.A.
Recent news media coverage featuring Webster University community members includes:
Fatton on Spying via Fake Profiles in Social Media
Lionel Fatton, who teaches East Asian affairs at Webster Geneva, was quoted in an Associated Press article about the problem with fake profiles on social media - many are designed to spread disinformation, defraud users or, in the case cited in this story, spy.
Fatton discussed the fake "Katie Jones" profile on LinkedIn that was used in a recent espionage case.
The article was published in about a dozen newspapers in Europe last week.
Read a version of the article in the Herald-Review here.
Tyler '18 in STL American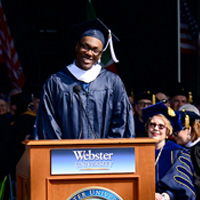 Alumnus Joshua Tyler, a former Donald M. Suggs Scholar, was featured in the St. Louis American about his film aspirations as he heads to the American Film Institute in Los Angeles this fall.
Tyler was an engaged student leader while a student on the Webster Groves campus, and he carries is advocacy of inclusion into his film work.
"In order to increase diversity and inclusion in media, we must increase the accurate representation of commonly underrepresented communities within the media," he said. "Often, stories about underrepresented communities focus on one specific community; however, there is a lot of overlap between communities."
Read the story at the St. Louis American here.
Ankomah-Graham on Feminism in Ghana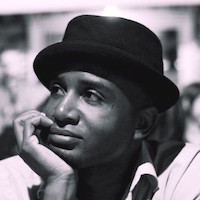 Kobby Ankomah-Graham, faculty member at the Ghana campus, was quoted in an article at global news site aazor.com about a popular feminist blog in Ghana that is challenging assumptions about sexuality.
"I definitely identify myself as a feminist so the boys can see it as possible. I try to explain to them that we have a long way to go, that they should be thinking about the fact that they are going to compete with women at work. They need to be prepared for it in ways that their parents were not."