In the News: Mahfood, Barrett, Schubert, Media Academy
Recent news media coverage involving Webster University community members includes:
Mahfood, Education Students on Conditions for Teachers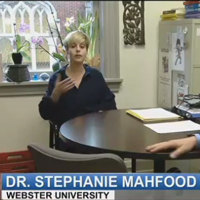 CBS affiliate KMOV-TV (Channel 4) visited Webster's main campus to hear from teacher educators and aspiring teachers on the recent wave of teacher rallies and strikes in several U.S. states.
School of Education associate professor Stephanie Mahfood and several Webster students were interviewed as part of the segment, with Mahfood and two students' reflections appearing on air.
The students were asked about their reservations in becoming teachers amid pay and oversight conditions that have led to mass demonstrations in several states.
Read about and watch the full segment at kmov.com.
Public Radio Features Media Academy Keynote Speaker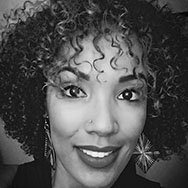 St. Louis Public Radio featured Sonja Perryman, keynote speaker of the School of Communications Media Academy that took place last week.
A producer for a company that develops shows highlighting social issues, including the all-Latino/a "East Los High," Perryman was the guest on "St. Louis on the Air," where she discussed similar themes from her keynote address.
Perryman talked about the ways she sees the entertainment industry changing, what a few of her favorite shows are these days and how she and her colleagues go about tackling real-life issues on screen. She also covered how her master's degree in public health provided knowledge and experience that prepared her for the issues covered by in her work for the Wise Entertainment production company.
Listen to the full interview at St. Louis Public Radio, an affiliate of NPR.
Barrett on MLK Anniversary Coverage, Photo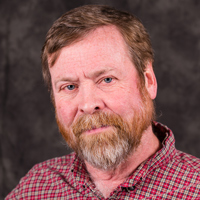 Photography professor Bill Barrett discussed a famous photo as part of NBC affiliate KSDK (Channel 5) coverage of the 50th anniversary of Martin Luther King Jr.'s assassination.
The segment features Rev. Earl Nance Jr., a St. Louis civil rights leader who was nine years old when he met King. Nance has several photos from his work over the years and from his father's work when King was alive.
Barrett discusses an iconic photo taken moments after King was shot in Memphis, and how its poignancy affects our collective memory of the national tragedy.
Watch the full segment at KSDK here.
Schubert on Instability in World Affairs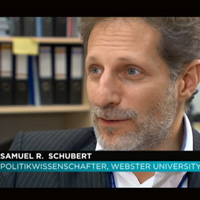 Vienna campus associate director and international relations assistant professor Samuel Schubert was interviewed by Kurier.at on several current world affairs, and whether it's all as bad as it seems.
"There are many many things going on where we are seeing a shift of the orientation, challenges to the systemic structure of the balance of power, that is being matched by some material gains, by a few countries with a focus on regional prevalence ... and a European Union that is so far still a fairly weak player except for economic matters, and the United States which has become less predictable under the current presidency. That lack of predictability adds instability on one hand, and opportunity on the other hand for others who are seeking to gain advantage."
The interview was recorded for the podcast in English and is turned into a German-language article. Access both the full podcast and written (German) transcript here.