Webster in the News: Nursing program on front lines of pandemic
The COVID-19 pandemic has put Webster University's nursing program in the spotlight, with news outlets interviewing Webster faculty members and students about life on the front lines of pandemic response, the important roles nurses play every day in public health, and the continued high demand for enrollment in Webster's BSN and MSN programs.
Drake, Weishaar Discuss Nurses' Roles during Pandemic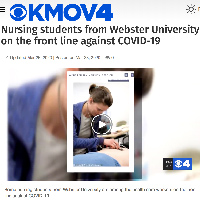 CBS affiliate KMOV Channel 4 in St. Louis talked to a faculty member and student for the story, "Nursing students from Webster University on the front line against COVID-19."
Mary Ann Drake spoke about nurses' roles in the effort to slow COVID-19's spread, including working in local hospitals and also volunteering with the Department of Health: "This is a very important piece, as of now, to hopefully cut down the curve."
The station also spoke to Cindy Weishaar, a Webster MSN (master of science in nursing) student who has been a nurse for 13 years:
"I wanted to learn how to be a more effective leader, and increase my knowledge," Weishaar said. "If you have an inkling to be a nurse and you want to help people and you want to make people's lives better, this is the best opportunity to do that."
Spiess on KTRS 550: 'True dedication that exists in the nursing profession every day'
Jody Spiess, an assistant professor in the Nursing program who also serves on Webster's COVID-19 Task Force, was interviewed by Art Holliday and Jennifer Blome on KTRS 550-AM, where they asked about Webster's online nursing programs, where students continue to enroll and attend while also serving on the front lines during the pandemic.
"These students are already nurses, they're already on the front lines, they're wanting to get a higher education, and I think they're seeing, 'Oh, we want to more, because we want to help our patients as much as we can,'" Spiess said on KTRS.
"I think we're seeing the true dedication that exists in the nursing profession every single day. It's just amplified and being publicized more now. This is what nurses do every day. And they're scared right now for themselves and their families, however their dedication to their patients, to their colleagues, and to the profession rises above. That's a lot of what we're seeing right now."
Asked what else could be done right now, Spiess also re-iterated an important reminder during the recent orders from public authorities: "Stay home."
Listen to the full KTRS interview with Spiess here.
Spiess on KSDK: 'At times like these people rise to the occasion'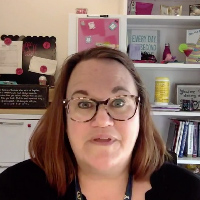 Spiess was also interviewed by NBC affiliate KSDK Newschannel 5, discussing these topics and also the calls she's been receiving with students interested in enrolling this summer.
"I'm in the midst of this crisis as a public health nurse, and it surprised me when I got calls asking about enrolling in our program. I'm thinking, 'Oh my gosh, I can barely think about that right now, but how exciting that people are still calling," Spiess said smiling.
Webster's nursing masters program, which started this week, is completely filled up. Spiess believes that similar to what happened around 9/11 when people felt called to be first responders, COVID-19 might call people into healthcare.
"I think a lot of the work that is done by nurses and first responders we sort of forget about because it's part of our daily lives and we're busy. But at times like these we see people rise to the occasion," Spiess told us.