In the News: Webster featured in NY Times, Post-Dispatch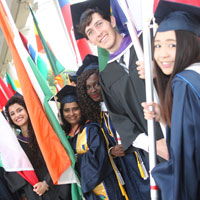 On the day marking the 100th anniversary of the laying of the cornerstone in Webster Hall, Webster University was featured in two major feature stories that received international syndication.
'Extreme Study Abroad' in New York Times
In The New York Times' education quarterly, Webster's study abroad program was prominently featured as an example of how the 21st century student receives a global education.
The story reads in part:
"Erin McNellis, 21, did not travel far when she started at Webster University in St. Louis, where she also grew up. But she chose it because its international program would enable her to keep on traveling.

Webster has campuses in seven countries, and partnerships with schools in seven more. Students can study in Thailand, Ghana, China, Japan, Mexico and throughout Europe. About 20 percent of its students study elsewhere in the world; some never study in St. Louis at all.

"For us, it's not about: You go somewhere, you study for a bit and you come back to St. Louis," said Elizabeth J. Stroble, Webster's president. "It's much more about: How can you make the world your home?"

Students can spend full terms at Webster's campuses abroad, and some courses combine an online or in-person class with an immersion trip; for example, a human rights studies class traveled to Rwanda and a class on international criminal law ended with a trip to Leiden, the Netherlands."
Read the full article, with more quotes from McNellis, here.
Centennial Feature in St. Louis Post-Dispatch
On Nov. 1, 1915, the Webster Hall cornerstone was laid and the Sisters of Loretto, representatives from the St. Louis Diocese and community members gathered to celebrate the founding with a small mass in what was then known as All-Saints Chapel.
One hundred years later, on Sunday, Nov. 1, 2015, representatives of the same communities gathered in the same place (now known as Winifred Moore Auditorium) for an interfaith celebration of Webster University's centennial.
The St. Louis Post-Dispatch also published a feature on Webster's history and growth on that day. The story traces Webster's roots, talks to a student taking advantage of one of its unique programs, and quotes President Elizabeth (Beth) J. Stroble on the students Webster serves:
"The higher education market is like any other," Webster President Beth Stroble said recently. "The competition is steep. You have to separate yourself and you have to always be innovating."

With a number of other local options for prospective students to pursue, Stroble said Webster is more than happy creating different niches for itself.

"We like to reach out to students other institutions may not see as their natural constituencies," Stroble said. "That means working adults, students with disabilities and first-generation college students. Really, we are here for anyone who is creative and inquisitive."
The article also quotes an expert in global higher education, Jason Lane: "It's incredibly important for universities to provide global opportunities. And Webster really pioneered that."
The article was also picked up by the Associated Press and appeared in outlets across the continent. Read the full story at stltoday.com.