In the News: Olliges on home learning; Buck on move-in; Hall on protests; Stiles on mental health
Recent news media coverage featuring Webster University community members includes:
Olliges Shares Tips for Guiding Children in Remote Learning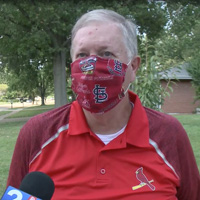 School of Education professor Ralph Olliges was featured on Fox 2 News and KPLR 11 giving tips to parents on how to guide children through remote learning during the pandemic.
"You have to be positive," Olliges said. "Your student may or may not get it the first time. One of the advantages to home learning is you can watch the video the second time or a third time. Sometimes, kids get it on the first time. But if they have to watch it a second or third time, so what who cares. Build in the time. You need to be positive with them."
He also said visual cues and props and other items can help make home feel like a classroom space. And, dress the part: "Get dressed for school," he said. "Doesn't have to be fancy but get out of the pajamas and dressed for school so you have the right mindset of going to school and learning."
Watch the full interview, recorded in his front yard, here at Fox2.
Buck on Move-In, Safety during Pandemic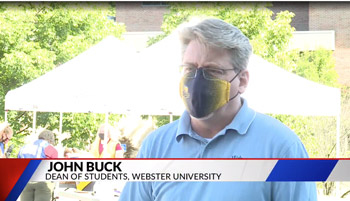 John Buck was interviewed during resident student move-in on the Webster Groves campus to detail the safety protocols Webster has put in place.
"We have been following the CDC guidance very closely," said Buck, Webster's Dean of Students.
"We have faculty here at Webster that are public health experts so all of that information came together. We created a very clear socially distanced, safe, mask-wearing environment that everybody so far has been very comfortable doing."
Watch the full interview at Fox2 here.
Hall on Historic Impact of Protests in U.S.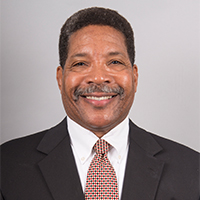 In an interview airing on multiple Sinclair TV stations across the United States, Bill Hall was interviewed about protests in the United States and their effectiveness when they turn violent.
He pointed out that U.S. history has had many violent protests that had significant impacts on the direction of the country, all the way back to the Boston Tea Party.
"From the time to time, there is a cyclical purge where the country seeks to find itself, to renew itself, to grow," Hall said.
Hall is an adjunct faculty member in the Department of History, Politics, and International Relations.
See one version of the story from WFXL in Albany, New York.
Stiles on Pandemic's Effect on Children's Mental Health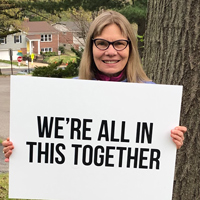 Debbie Stiles was interviewed by VOI Radio in London about children's mental health and the reopening of schools amid the COVID-19 pandemic.
Among the questions she covered was her pserspective as a child psychologist, understanding the "multitude of challenges faced by children in normal school settings," which now have additional unique issues due to schools reopening amid a pandemic.
A professor in the Applied Educational Psychology and School Psychology graduate program in the School of Education, Stiles is the co-chair of the American Psychological Association International Psychology COVID-19 work group on Training and Education.