In the News: Roberts on small business, Reddy on exercise, Falconer on anxiety
Recent news media coverage featuring Webster University community members includes:
Roberts Advice for Small Business on St. Louis On The Air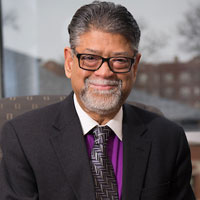 Joe Roberts was interviewed on "St. Louis On the Air" on St. Louis Public Radio about resources small businesses can access to help get through the drop in revenue from the pandemic.
Much has been made of federal legislation for help, but Roberts pointed out that there are other avenues.
"Main Street is where a lot of action is, in terms of [the] economic engine," he said, "[but] Wall Street got a bigger chunk. ... And then of course when politics enters this, everything kind of goes out the window. But my best recommendation would be to go to your banker and then maybe see if you qualify for an SBA Express Bridge Loan. [And] if the funds [for the Paycheck Protection Program] open up again, you should be ready to jump in and apply and get the funds right away."
Roberts is professor and program lead for the Entrepreneurship Program in the George Herbert Walker School of Business & Technology, and co-director of the Center for Innovation and Professional Development.
Listen to the whole interview online here.
Reddy on Fox 2 on Exercises to do at Home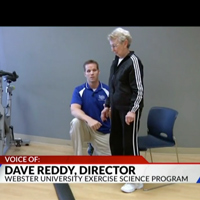 Dave Reddy was interviewed on Fox 2 to discuss exercises people, particularly seniors, should be doing at home while unable to access normal activities during the pandemic.
The director of the Exercise Science program in the College of Arts & Sciences discussed the importance of mobility -- doing small movements like shoulder rolls to mobilize joints and strength. "Everyday strength you need to use the lawnmower, pick up your grandchild, lift a bag of mulch," he said. There are simple exercises you can do like "countertop pushups" to maintain strength to enable such activities.
Above all, he said, be mindful and listen to your body. "Be mindful of how your body feels with basic movements like turning your head, lifting a cup of coffee," as those will help you understand what areas need more attention in fitness exercises.
Falconer in AARP, Mother Jones on Anxiety and Isolation during Pandemic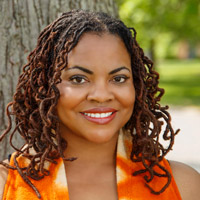 Jameca Falconer was quoted in the latest AARP newsletter about how to reduce fear and anxiety during the COVID-19 pandemic. Keeping up with news can help us stay informed -- but it can come at a mental health cost if we don't manage our intake.
As Falconer, a faculty member in the School of Education, said:
"News puts your brain on alert, even if you don't realize it," says Jameca Woody Falconer, a licensed psychologist and faculty member at Webster University in St. Louis, Missouri. "I have patients who watch the news around the clock, flipping from channel to channel, and it just amps up their cortisol levels."
Consider limiting yourself to 30 minutes a day or just checking the news once in the morning and once in the evening.
Falconer also recommends connecting regularly with friends and family members by video chat or phone. "When you're alone with your thoughts, your anxiety can spiral," she says.
If your anxiety is interrupting your ability to function or to perform ordinary activities like paying bills or showering, that's a sign it's time to consider professional help.
Read the full story at the AARP.
At Mother Jones on Social Isolation
Separately, Falconer was featured in the nationally syndicated Mother Jones magazine, which quoted her as a national expert on how the COVID-19 crisis is impacting those who already faced conditions or difficulty with social isolation:
Others may feel like an essential lifeline has been cut off, and Falconer is trying to broker new forms of communication between these patients and their families. "I've been talking to patients about trying to start using technology that they haven't been too open to before, like FaceTiming," she says. "They can still communicate with their family, even though they can't physically see or touch them."