In the News: Smith on coding competition; Stroble in Gazelle; Burke's visit
Recent news media coverage featuring Webster University community members includes:
Growing High School Programming Challenge on KTRS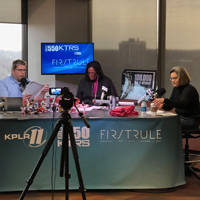 Martha Smith, professor and chair of the Math and Computer Science Department, was interviewed on KTRS 550 AM radio early Friday morning to discuss the George Herbert Walker School of Business & Technology's annual High School Programming Challenge, as well as the need to teach more children how to do basic computer programming.
Smith talked about the growing participation of females in the competition, with last year having an all-female team and this year's competition having the highest percentage of female participants yet.
The host McGraw Milhaven asked, "Are so many kids going to learn how to code that there aren't going to be enough jobs?"
Smith, in a word: "No."
She explained that the need is only growing in more and varied industries, while at the same time many programmers are leaving the work force as "baby boomer" generation members retire.
The interview aired live on KTRS and also was streamed online. The full interview can be viewed here.
Stroble Profiled in Gazelle Style Magazine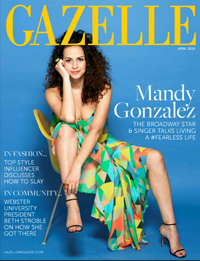 Webster President Beth Stroble was featured with a cover call-out in the April 2018 edition of Gazelle magazine.
The profile, "Take it from me…with Beth Stroble: Hard-working. Passionate learner. Leader." appears on pp. 78-79 and can be found here, or in the spread of the online issue here.
The interview discusses her own career path, her leadership style and lessons, and what fuels her work in education.
"Every university is at a defining moment, and it's a big opportunity for us to find a path that mixes tradition with innovation," she said.
The issue also features a photo gallery of Webster's "From #MeToo to #WeToo" screening event.
Burke's #MeToo Visit to Webster Featured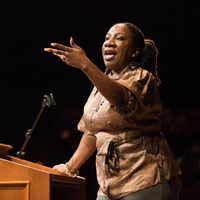 MeToo movement leader Tarana Burke was featured in the St. Louis American newspaper upon her visit to Webster's campus in February.
"I've been crisscrossing the country having conservations on college campuses and in communities to talk about what the Me Too movement is actually about, and really to do the work of shifting the narrative of what mainstream media and corporate America and other people are saying that is," Burke said.
"I'm really hoping to deputize people to also be messengers, to go out and talk about what this work is actually about. And we have so much work to do that it can't be done by one person."
Read the St. Louis American story here.
See more coverage from her visit and Webster community members discussing #MeToo here.