In the News: Rolla adopts, Owsley on music faculty, Eaton '06
Recent news media coverage featuring Webster University community members includes:
Webster Rolla Team Adopts Missouri Highway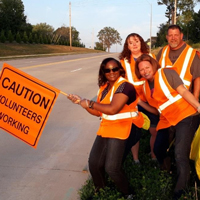 Webster University's Rolla, Missouri, campus location was covered in the Rolla Daily News after a student idea led to the campus "adopting" a stretch of Highway 72 through Missouri's Adopt-A-Highway program.
"I could not be prouder of our students, faculty and staff members who took part in our inaugural litter pickup," campus director Greg Edwards said. "So many people connected to Webster Rolla have helping hearts, and it's amazing to see them gladly take on another project to help the community."
Edwards said Jordan Isakson, a student in the Master of Business Administration program, deserves credit for getting the wheels in motion for the campus to adopt the Highway 72 extension.
"Jordan approached me about this a few months ago, and he agreed to serve as our campus's Adopt-A-Highway team leader," Edwards says. "He's a rock star when it comes to community service, and interestingly enough, he's actually a talented musician and a literal rock star for the Mid-Missouri region as well."
Read the full story at the Rolla Daily News.
Jazz Historian Owsley Praises Webster Music Faculty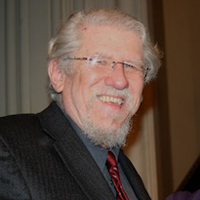 Jazz historian and expert Dennis Owsley raved about Webster University's Department of Music programming and faculty during an interview for his new book, "St. Louis Jazz: A History."
The article in the Webster-Kirkwood Times calls Owsley "a respected chronicler of jazz music, photographer of musicians and jazz music collector." He has also hosted jazz programs on St. Louis Public Radio for four decades. In 2012 he donated his entire 54-year collection of jazz recordings to Webster University, which makes much of it available for circulation in Emerson Library.
"When it comes to Webster University faculty, they put on 10 jazz concerts each school year with the best jazz musicians in St. Louis," Owsley said in the interview.
"Paul DeMarinis is a wonderful, inventive reed player, composer and poet who is the head of the Webster Jazz Department," noted Owsley. "Steve Schenkel at Webster is not only a very inventive guitar player, but a composer of film and TV scores."
Read the full story at the Webster-Kirkwood Times.
Eaton '06 Recalls Path to Wig and Hair Design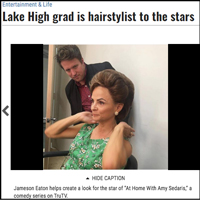 Jameson Eaton, a 2006 graduate in Webster's Leigh Gerdine College of Fine Arts, was profiled in the Canton (Texas) Repository for carving "quite an illustrious career for himself as a hairstylist and wig designer for television and film."
Among the stars he's styled are Annette Bening, Sarah Paulson, Elisabeth Moss, Fred Armisen, Damien Lewis and Paul Giamatti.
Eaton worked four seasons on "Saturday Night Live," where he was part of an Emmy-winning team, three seasons on "Boardwalk Empire" and is currently styling hair and wigs on TruTV's "At Home With Amy Sedaris."
"When I was getting ready to go to college, I had this opportunity to go to a school in St. Louis, Mo. (Webster University Conservatory of Theatre Arts), that had a really strong theater program. (Knish) said, 'This sounds great for you,' and she really pulled for that and I ended up getting in. I started out with costume and set design but once I was there I started doing hair and makeup and learned to build wigs and learned about period style."