Video: Buddhist monks' sand mandala at Webster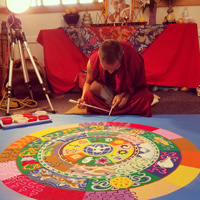 Last week Webster University welcomed Buddhist monks from the Drepung Gomang Monastery in India to campus for the creation of a sand mandala around the theme of world peace and diversity.
The three-day process involves careful, intricate design with grains of sand. It closes with a destruction of the sand mandala, evoking the theme that everything is moving and temporary in the world.
As the monks created the mandala in the University Center, passersby paused to watch, contemplate and reflect.
The St. Louis Post-Dispatch and Fox 2 were among the media outlets capturing the activity with video. HEC-TV is also producing a piece around the event.
Watch the Post-Dispatch feature here, which includes portions of time-lapse video and interviews with the monks describing the themes around this work.
Watch the Fox 2 feature here, as they broadcast live on-air spots from the site.