In the News: Schuster on coronavirus, Schöllhammer on U.S. elections, ILC on food, Kaiser on LGBTQ
Recent news media coverage featuring Webster University community members includes:
Schuster Discusses Global Institutions' Prep, Response to Coronavirus Outbreak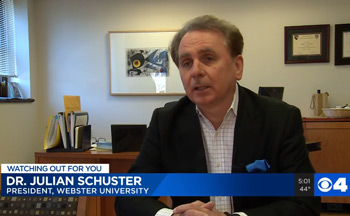 Webster University President Julian Z. Schuster was quoted by CBS affiliate KMOV, NBC affiliate KSDK and the St. Louis Business Journal about how a global institution like Webster is taking precautions amid the coronavirus outbreak.
Here is Schuster's latest message to the Webster community on policy, guidance and travel impact.
Language TA's Discuss Mardi Gras Traditions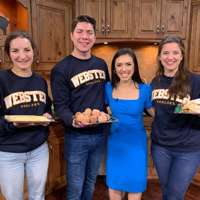 Webster University International Languages & Cultures teaching assistants Yamile Mauad (Spanish), Malte Hansen (German) and Morgane Daynes (French) were in the KMOX and KSDK newsrooms last week to share traditional foods and cultural traditions around "Fat Tuesday" and Mardi Gras.
They each described some of their favorite foods -- which they prepared and brought to the news studios -- while also discussing festivities in their home countries.
Asked to compare their home celebrations of Mardi Gras with that celebrated in St. Louis and the United States, they remarked: "The atmosphere is quite similar...though maybe not the way you throw necklaces around."
One of their two KMOX in-studio interviews can be heard online here.
Schöllhammer Discusses U.S. Elections on Puls 24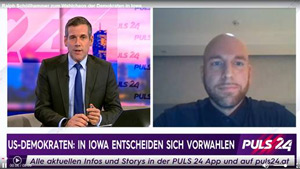 Ralph Schöllhammer, faculty member in international relations, business and management at Webster Vienna, was interviewed by Austrian TV news outlet Puls 24 about the U.S. primaries.
With anchor Werner Sejkae, Schöllhammer discussed some of the candidates in the Democratic primaries after the season kicked off in Iowa.
Watch the interview in German here.
Kaiser Thought Piece in TH-Ink Queerly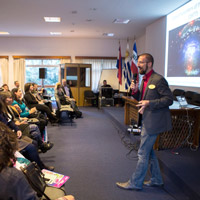 DJ Kaiser's latest piece on Medium was also published in TH-Ink Queerly, an online thought leadership magazine centered around LGBTQ issues. In the piece, Kaiser reflects on his personal and professional experiences as a gay white male and the need for others to share their Queerstories.
"I am not sharing my story because I believe that what I have been through has been worse than others, that I may inspire people more than others could, or because I think I may be the best representation of my community; let me share my story as an invitation to others to share their stories."
Read his thought piece, "Let Me Be Perfectly Queer," here.
Kaiser is associate dean for the Webster University School of Education and director of Teaching English as a Second Language.