Webster in the News: President Schuster on adapting to pandemic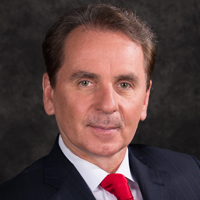 How are universities adapting to the pandemic and advising parents and students amid a quickly changing reality?
That and other questions were posed to Webster University President Julian Z. Schuster answered during a 13-minute interview on KTRS 550 AM with hosts Art Holliday and Jennifer Blome.
Schuster said an important piece going forward is addressing equity and access issues for students.
"The university that is not focused on access and equity will have a harder time," Schuster said. "As an industry, if we continue to operate remotely, we will need to do a lot to make sure students have access to internet and equipment. There is a socio-economic component to that 'access' -- not just technology but also instructional support."
"We will do whatever we can to provide as much access to students as we can. Webster traditionally, since its founding by Sisters of Loretto in 1915, has always been about meeting unmet needs. Today, the pandemic is an opportunity for institutions like Webster to live their mission and be true to their values."
Preparing for Uncertainty
Holliday and Blome referenced articles forecasting enrollment shifts and uncertainty in higher education due to effects of the pandemic. But enrollment projections across the industry are still to be determined, Schuster said. "Local and regional colleges probably will have more interest from students who want to stay closer to home. There also will be different impacts based on how many graduate students and undergraduate students an institution has. So the impact will not be equally distributed."
So how does a university adjust? they asked.
"When you deal with this uncertainty, you monitor and keep yourself informed, and prepare for the various scenarios," Schuster said. "Somebody published 15 possible scenarios that could take place for the fall. We should probably limit that to three or four plausible scenarios, from operating fully online or remotely to operating something that would resemble how things were before the pandemic. ... I think the 'new normal' will be probably something in between. That we will have modified operations on ground, with social distancing present, and additional measures to assure health, safety and security for all of our constituents. We will use this summer to assess probabilities of these scenarios and to put necessary measures in place for the fall."
'We are all in this together'
"Things have profoundly changed in the last six weeks," Schuster said. "The issue is not to like or dislike these changes, it is to adapt to these changing circumstances. Our ability to be successful will hinge on how aptly we as a university, we as a society, we as a country will adapt. This is a new reality, and we as a human race need to find a way to cope with that. And there will be other challenges as we move forward. We saw what a truly globalized world means -- that these things are not happening in isolation. ... We are all connected, and we will need to find a way to reconnect as a society to provide -- if not the same, then different and better experiences, despite the pandemic."
The hosts closed by asking about advice to parents and students.
"Webster will do whatever we can to ensure the safety, health and security of our students and our employees," Schuster said. "So to parents, colleagues, returning students: We are in this all together. No one is immune to the challenges we are facing. We as an institution and as a community will do whatever we can to weather this storm, rely on one another, and support each other."
Listen to the full KTRS interview with President Schuster on SoundCloud here.