In the News: Stiles on child separation, nursing nomination, Kaiser on Medium
Recent news media coverage featuring Webster University community members includes:
Stiles, Chaki Discuss Research on St. Louis Public Radio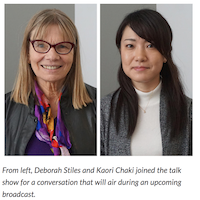 Debbie Stiles and graduate student Kaori Chaki were interviewed on "St. Louis on the Air," on NPR affiliate St. Louis Public Radio, to discuss the project, "The Psychological Impact of Separating Immigrant Children from their Families," which Stiles Chaki and other students have developed and prepared for presentation to legislators.
Stiles is professor of Applied Educational Psychology and School Psychology in the School of Education, and a fellow of Webster's Institute for Human Rights and Humanitarian Studies.
The 48-page report from them and 12 co-authors tells the stories of 10 children caught in the middle of U.S. practices along the nation's southern border.
Read more and hear their interview at St. Louis Public Radio here.
Alumna and Doctoral Student Nominated as Top Nurse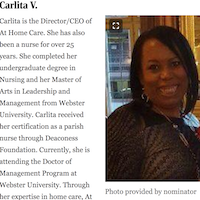 Webster University nursing and management alumna and current doctoral student Carlita Vasser is a nominee as one of the top nurses in the St. Louis area as part of the St. Louis Post-Dispatch's #CelebrateNurses contest.
From the nomination: "The director/CEO of At Home Care has been a nurse for over 25 years. She completed her undergraduate degree in Nursing and her Master of Arts in Leadership and Management from Webster University. Carlita received her certification as a parish nurse through Deaconess Foundation. Currently, she is attending the Doctor of Management Program at Webster University. Through her expertise in home care, At Home Care works to keep disabled and or seniors living at home with independence by aiding in basic need assistance. Through her grant writing and corporate sponsorships, she has been the creator of healthcare programs or assisted with fundraising for charitable organizations, churches and not for profits organizations. Her caring spirit often goes unnoticed. She volunteers and donates privately many times. Her heart for the underserved and disenfranchised is shown in her daily work."
Kaiser on Multiple Topics at Medium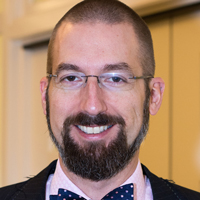 DJ Kaiser published a tutorial about how to write effectively on Medium called "Reaching New Markets Through a New Medium," a platform where Webster faculty expertise has gained greater reach.
Kaiser also recently posted about varying responses to the coronavirus, using memos from state and federal departments of education to ask a question weighing on many people's minds – now that so many Americans are staying at home and practicing self-isolation, how will we know when it will be safe to resume normal life again?
"This current disorganization is important to keep in mind as we look forward to a day when social distancing and stay-at-home mandates are a thing of the past and the curve has flattened to zero new cases and deaths. But getting to that point could be even more disorganized unless government officials and leaders across the nation and around the world dedicate ample time to prepare for a return to normalcy."