In the News: Stroble on conference; Falconer on black history month; Webster Groves
Recent news media coverage featuring Webster University community members includes:
Stroble Discusses Diversity, Equity, Inclusion on Fox 2, Business Journal Op/Ed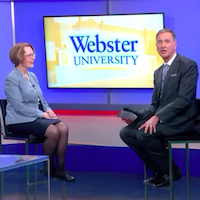 Chancellor Elizabeth (Beth) J. Stroble discussed this year's Diversity and Inclusion Conference during a live interview on Fox 2.
Stroble was asked about some of this year's featured speakers, including Aisha Sultan, St. Louis columnist and filmmaker, who is one of this year's featured speakers and is receiving the Champion For All award, and Michelle Norris, the former National Public Radio reporter who started the Race Card Project.
"The whole idea is to take critical conversations on topics that truly impact all of us, and turn them into action," Stroble said. "It's important to discuss topics that are sometimes challenging to have conversations about."
"It's an on-going activity to say, 'What does it really mean to make everyone feel they belong?'"
Watch the full interview at Fox2 here.
Leading up to the conference, Stroble also authored an op/ed published in the St. Louis Business Journal on why diversity, equity and inclusion are "a social and ethical imperative."
"For our students to succeed and thrive in an increasingly diverse workforce, it's imperative they not only hear about diversity, equity and inclusion but 'live' it," she writes.
"The incoming group of young adults entering college, Generation Z, is said to be the most diverse generation in U.S. history. They join diverse populations of adult learners who can outnumber their traditional age counterparts in our classrooms. There is an unprecedented demand for diverse, inclusive workplaces. According to Glassdoor, 67% of job seekers consider workplace diversity an important factor when considering employment opportunities, and more than 50% of current employees want their workplace to do more to increase diversity."
Read the Op/Ed at the Business Journal here or in the Feb. 20 print edition.
Falconer Interview in St. Louis American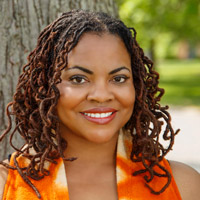 Jameca Falconer's recent St. Louis Public Radio interview on teaching black history, which was picked up by multiple news sources, was also printed in the St. Louis American.
Faloner, who is adjunct professor and director of the School of Education's Applied Educational Psychology and School Psychology program, discussed current ways to teach black history for students of varying ages, and what aspects of African-American history should be highlighted more.
"The only way you can have a really complex understanding of the role of African Americans is to look at black people all across the span of every area," Falconer said. "So that's the arts, that's music, that's literature, that sports. It's really everything — education and politics. You have to look at all the pieces and not just focus on one era, which most people do, and it tends to be the Civil Rights Movement."
Read the piece at St. Louis American here.
Webster University in Spotlight on Webster Groves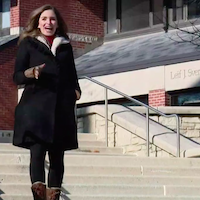 Webster University was among the highlights of a KSDK (NBC) feature on Webster Groves, recently rated "the safest city in Missouri," where Webster University was founded in 1915.
The "Today In St. Louis" segment, narrated by Allie Corey, visits Webster's campus as it discusses the municipality's attributes and history, calling it "a small town with a big city feel." It also noted St. Louis Repertory Theatre and Opera Theatre St. Louis, each of which reside on the University campus and produce performances in the Webster University Loretto-Hilton Center.