Stroble on FOCUS St. Louis, Vidzu: 'Everybody has risen to the occasion'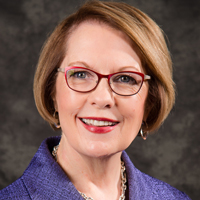 Webster University Chancellor Elizabeth (Beth) J. Stroble was part of two recent interviews reflecting on how higher education institutions and Webster specifically has adapted and responded to the disruptions of the COVID-19 pandemic.
John Launius, a Webster alumnus and president of Vidzu Media, interviewed Stroble as part of the Leadership Factor series, asking questions about how Webster has adjusted and strategized a way forward.
Stroble was also on FOCUS St. Louis' "Virtual Forum on Higher Education in the Age of Coronavirus," with fellow leaders from Southern Illinois University - Edwardsville (SIUE), University of Missouri - St. Louis (UMSL), and Maryville University.
Asked on the FOCUS St. Louis panel about what institutions need to do, Stroble said optimizing existing strengths is important:
"The strengths that your institution already has need to be optimized and capitalized on, and for Webster online has been one of those. But for Europe and Asia, online offerings have not necessarily been seen as of high quality, or as valuable, or as desirable as face-to-face instruction. As a result, over the years we have not truly done as much online work internationally, but we always knew that was an opportunity. So in Uzbekistan, for example, we had a very successful launch in Tashkent last August, but we are the only education institution in Uzbekistan that already had online offerings. ... So we have some capabilities that offset the difficulties of mobility that will surely continue, and can offer more options for people in those regions of the world. I could not have foreseen a pandemic opening this door, but it certainly has."
She also fielded questions about plans for virtual commencement, making plans based on limited and frequently changing information, and how the Webster community has adjusted:
"I just feel tremendous pride in how resilient and capable and confident our community is," she said. "That of course includes our students, but it includes our faculty and staff, our trustees, alumni and donors. Everybody has risen to the occasion and it is heartening to see. It gives us great confidence as we move through this and other realities we face as a world. What other global issues to come, [the response to the pandemic] shows we are equal to it."
Watch the full FOCUS St. Louis panel here:
Vidzu Media Leadership Factor
Stroble echoed those sentiments during the Vidzu interview. "At a university, the only way a pivot happens successfully is if everyone leads," she said. "That includes faculty, staff, students, alumni, community members, trustees, administrators. I am extremely proud of how our community rose to the occasion.
"And there were multiple steps, deliberatively, to say how do we serve our students well and ensure the safety and health of our community? How do you do that and at the same time deliver a quality education so that everyone can attain the credential they came here for. Then how do you move students who are in residence halls, how do you move staff remotely, what do you do about commencement, and how do we use our expertise to serve the broader good."
On the move to remote instruction, Stroble said it helped that Webster was already strong there and has done it for decades.
"We do it in-house. It's our own platform, our own faculty development center, our own IT, our own online division. So even programs that had never done online or only done a little bit, and faculty that had comparatively little experience, we were ready to ramp up very quickly. It has gone as seamlessly as one can imagine when we're talking about 12,000 students around the world."