Stroble on 'Top Women in Higher Education,' Polgar Hall induction, SVO
Recent news media coverage of Webster University community members includes:
Stroble in 'Top 35 Women in Higher Education'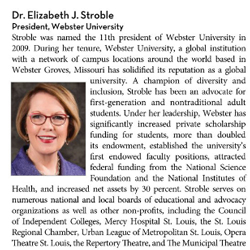 President Elizabeth (Beth) J. Stroble was named to DIVERSE: Issues in Higher Education's "Top 35 Women in Higher Education."
The honorees are featured in the March 21, 2019 issue of the magazine, with Stroble's profile appearing on page 18.
Among other achievements, the magazine noted Stroble's advocacy for first-generation and nontraditional students, diversity and inclusion at Webster, and fundraising to increase student scholarships, endowed faculty positions and federal grants from the National Science Foundation and the National Institute of Health.
View a digital version of the magazine through this link.
Hall of Famer Polgar in STL Magazine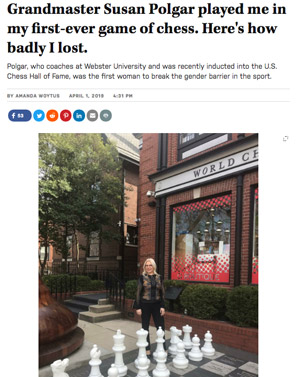 Webster University chess head coach Susan Polgar was featured in STL Magazine for her recent induction into the U.S. Chess Hall of Fame.
The article discusses her success in chess, and the many gender barriers she has broken in her career. The author of the story also learns about chess by facing Polgar.
Last month, Polgar became the youngest female ever inducted into the Hall of Fame. In the article, she called the honor "just as much a recognition of everybody who helped me along the way...My parents who sacrificed so much. All my coaches and friends who were there for me over the years."
This weekend, for the seventh consecutive year Polgar will guide Webster's team into the President's Cup tournament, the "final four" of collegiate chess. Her team has won five out of the last six years.
Read the profile at STLMag here.
SVO 'Laugh at Life's Challenges'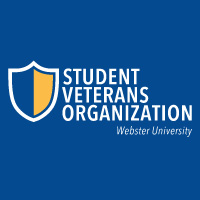 We Are Movie Geeks featured this week's "Laughing At Life's Challenges" events, which Webster's Student Veterans Organization is hosting on the Webster Groves campus as a day of networking, camaraderie and interactive learning for both civilians and military members to utilize comedy and the arts to actively combat life stress and adversity.
Among the events on Wednesday, April 3, are an improv workshop with BJ Lange and an animated screening and Q&A with Webster alumna Jas. Boothe, an author, entrepreneur, disabled Army veteran, cancer survivor, innovator, philanthropist and speaker with 16 years of military service.
Boothe's "DISCHARGED" is an animated series that follows four military veterans navigating their next chapter: Hollywood. But what looks like a smooth transition soon turns into a challenge, as the shenanigans of the team prove difficult for their quiet suburban neighborhood and all of Hollywood to swallow.
Read the coverage at We Are Movie Geeks. See the lineup of the April 3 events in Browning Hall here.