In the News: President on tax reform impact, AIDS initiative, Rothenbuhler on media
Recent news media coverage featuring Webster University community members includes:
Stroble on Tax Reform Impact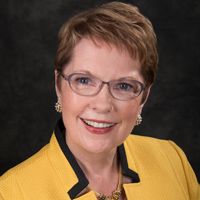 Webster University President Elizabeth (Beth) J. Stroble was interviewed on CBS Radio affiliate KMOX AM about the current tax reform bills in the U.S. House and Senate that could affect higher education in many ways. The segment on the evening news update discussed how provisions concerning student loans and tuition waivers could prevent potential students from enrolling — and impact the region economically.
"We really think that the investment that a student makes and any loans that they take out at Webster is a smart investment in increasing the earning power of St. Louisans, and they should be able to take a deduction for that interest," Stroble said. The segment noted Webster graduates triple their earning power when they earn a degree.
Read more at KMOX.
Video: Stroble, Rothenbuhler on AIDS Initiative
President Stroble also appeared with Eric Rothenbuhler, dean of the School of Communications, on STL TV to discuss the Global AIDS Prevention Project initiative with ARDN. Part of the partnership initiative will involve Communications students capturing the stories and testimonies to raise awareness of AIDS on a global level and the importance of screening.
Watch the interview, in two five-minute segments, below or on YouTube (Part 1, Part 2):
Op/Ed on AIDS Initiative with ARDN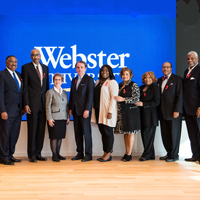 An Op/Ed by President Stroble was published in the St. Louis American, also relating to the recent announcement on World AIDS Day about Webster University and the African Renaissance and Diaspora Network (ARDN) partnering on domestic and global initiatives for AIDS awareness and prevention.
"Our established global orientation positions us to assume a leadership role for this challenge by activating academic networks around the world, as we frequently address wide-reaching issues such as increasing diversity in our communities and providing opportunities to non-traditional learners. In doing so, we aim to help the next generation find their voices and facilitate strategic actions.
We believe in being world changers – both through our own behavior and as advocates. We are grateful for the opportunity to contribute to tackling problems like HIV/AIDS, which threatens populations locally, nationally and internationally."
Read the full piece by Stroble at the St. Louis American.
Rothenbuhler on Sexual Misconduct in Media
Dean Rothenbuhler was also interviewed by FOX national news over the weekend about the number of high-profile media personalities who have been accused of sexual misconduct.
"It is time for all institutions and organizations to examine themselves, accept honest criticism, and change; it is time we all accept responsibility for work places that are safe and respectful for everyone," he said.
Read the full article here.