In the News: Burke's visit; Ibroscheva, Cummings and Thomas on MeToo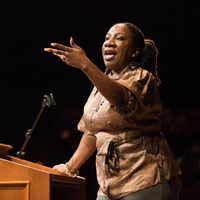 The visit by #MeToo founder Tarana Burke to the Webster Groves campus this week generated coverage on four television stations, three radio stations and at least three newspapers.
Some of the notable stories, with footage from her remarks included:
Fox 2 News: "Founder of #MeToo movement says society needs a shift to disrupt sexual violence"
"There are so many people who are survivors in various ways that are just hurting that just want a way to be better to live better," Burke said continued, "this is not a movement that is strictly for women this is a movement that's for survivors whatever that looks like."
NBC affiliate KSDK (Channel 5): "At Webster University, #MeToo founder says she wants to dispel the myth."
"People talk about this a movement to take down powerful men or against men or things of that nature. That's the only way they can think about it, and so what I try to do is help people have a more expansive way of thinking about this," Tarana Burke said.
NPR affiliate St. Louis Public Radio: "#MeToo founder talks the future of the movement at Webster University lecture."
"There are so many things left out of the conversation concerning #MeToo. We don't talk about sex trafficking, we don't talk about marginalized folks, we don't talk about child sex abuse," she said in a press conference with local media. "There are so many things on the spectrum of sexual violence that exists."
See more photos from Burke's lecture in this Facebook album.
Webster Faculty, Staff, Student on Panel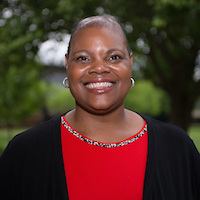 Also related to Burke's visit to Webster University, a panel featuring Elza Ibroscheva, associate dean of the School of Communications; Webster student Baleisha Thomas, a psychology major; and Colette Cummings, associate dean of students, was recorded by the Fox 2/Channel 11 program, "The Pulse of St. Louis." They discussed Burke's lecture and what the #MeToo movement means for universities as a whole.
That program will air on KPLR Channel 11 during its 7 p.m. news broadcast on Saturday, Feb. 24, and will be posted online at The Pulse of St. Louis.