In the News: Schuster, Hellerud on Trump travel ban; Hall on protests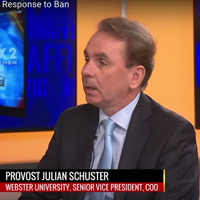 Recent news media coverage involving Webster University experts includes:
Schuster Discusses Trump Immigration Travel Ban
Julian Schuster, Webster's provost, senior vice president and chief operating officer, was on St. Louis television Fox 2 news Tuesday morning to discuss the University's statement regarding the recent travel ban issued by the Trump administration.
Part of the reason for the upcoming town hall on the issue, Schuster said, is that "we want to assure our community of our unequivocal determination to assist them and provide them all the necessary assistance that they need in these times of anxiety."
"It's important to remember that as a global institution, we have more than 185,000 people who have graduated from Webster. So we need to care for our past students as well as present students and future students."
The interview with Schuster can be found online here.
Hellerud on KSDK about Ban's Impact on Students, Faculty, Staff
Vice Provost Nancy Hellerud Monday night explained to NBC affiliate KSDK Channel 5 the many complications that Trump's immigration ban is causing for students, faculty and staff:
"I think the first thought was the impact on our international students," said Nancy Helleurd, the Vice Provost at Webster University in St. Louis. "There are students immediately impacted wondering what this means for travel plans. They might have to return to their countries. There are questions from prospective students who want to study here — what that means for their ability to come to the U.S."
"I do think it will be a challenge, for some time, for universities who really want large international student populations on their campuses," Hellerud said.
Hall on Effectiveness of Protest Marches
With current events eliciting protest marches across the United States, the Washington County Observer Reporter interviewed William Hall, political science adjunct faculty member in Webster's College of Arts & Sciences, for an article about the effectiveness of protest marches.
"You can look at it from any perspective, and you'd be hard-pressed to deny that they affect public policy," Hall is quoted as saying.
"For an example, Hall pointed to the most hallowed march in the country's history – the March on Washington for Jobs and Freedom, the Aug. 28, 1963, civil rights protest that drew 250,000 people to the Lincoln Memorial, including luminaries like Marlon Brando, James Baldwin and Bob Dylan."
Hall was also recently on Fox 2 discussing the U.S. presidential inauguration.