In the News: Undergraduate research on herbicide impact on ants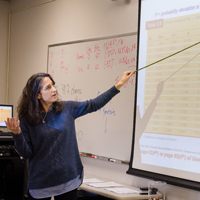 NPR affiliate St. Louis Public Radio aired a story on Webster University undergraduate research into the effects of man-made contaminants such as herbicides on the behavior of ants.
The research, supervised by Victoria Brown-Kennerly, found that the presence of the herbicide Roundup caused Western harvester ants to stop digging. But they also found that glyphosate -- the chemical most associated with the product -- was not the culprit.
Brown-Kennerly is an assistant professor in the Biological Sciences Department, part of the Webster University College of Arts & Sciences.
"Roundup is a really complex mixture of at least five different chemicals," said Brown-Kennerly as quoted in the article accompanying the story. "I had a student who went in and de-convoluted this thing and looked at every chemical and we figured out it isn't glyphosate."
The article also quotes recent Webster graduate Krystal Meza, who worked on the study as part of her undergraduate research at Webster.
And the story notes that Brown-Kennerly's laboratory is looking into how many different environments, such as gel, sand or soil, affect exposure and behavior changes in ants.