In the News: Human Trafficking Workshop, Hellinger on Venezuela, Ilyashov's Impact
Recent news media coverage of Webster University includes:
Ilyashov a 'Teacher Who Made a Difference'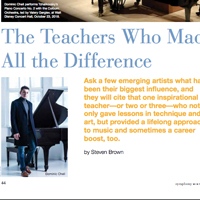 Community Music School faculty member Zena Ilyashov was mentioned in Symphony Magazine's 2019 Winter Issue in the article titled "The Teachers Who Made a Difference."
Dominic Cheli, one of the musicians profiled in the article, cited Ilyashov as a difference-making influence on his development:
"I would sometimes get nervous before performances due to being overly self-critical of my playing. I remember apologizing for some mistakes I had made in one recital," says Dominic Cheli, only to be surprised by teacher Zena Ilyashov's "insistence that I 'never apologize for trying to create something special.'"
Ilyashov's philosophy: "The only regret a musician may have is if they did not properly prepare," Cheli recalls. By focusing on work and progress, rather than on his emotions, Cheli says that Ilyashov's dictum "made me feel liberated from many of my fears."
Read the magazine article here [PDF].
Human Trafficking Awareness Workshop on Fox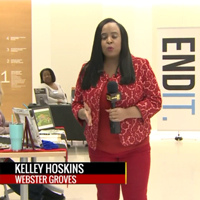 St. Louis station FOX 2 News covered a Human Trafficking Workshop hosted by the College of Arts & Sciences Legal Studies department, and interviewing Anne Geraghty-Rathert, professor and chair of the department.
"Pathways to Combating Human Trafficking: A Human Trafficking Awareness Workshop," was held Jan. 26 in Browning Hall on the main campus of Webster University.
Guest experts spoke about the signs of human trafficking, how it is affecting the St. Louis region, and what people can do to help. State continuing legal education credits were also available for legal professionals who attended.
View the Fox 2 segment online here.
Hellinger on Venezuela Constitutional Crisis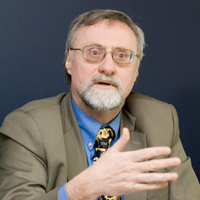 Dan Hellinger wrote a column in the academic online blog "The Conversation" about the ongoing constitutional crisis in Venezuela. The article, in Spanish, examines the unique situation where two presidents believe they have legitimacy to lead the nation, with two assemblies trying to navigate the on-going crisis.
Hellinger, an expert on political economy and Latin America, is professor emeritus in the College of Arts & Sciences.
Access "Historia de dos presidentes" (The story of two presidents) here.