Webster in the News: Top colleges, Uzbekistan, Pease on Venezuela
Recent news media coverage featuring Webster University and its community members include:
Webster Part of Changing Landscape in Uzbekistan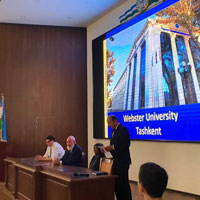 Webster University was highlighted by University World News as part of an in-depth look at the changing laws surrounding education in Uzbekistan, and how that has opened the doors for universities to offer programs in that country.
"Much fanfare accompanied the opening of the American Webster University, where bilateral talks on opening campuses in Tashkent and Samarkand had apparently begun under the previous leadership in 2012. However, it was not until the 2019-20 academic year that the campuses were inaugurated, with just under 500 students."
Read the full story at University World News here.
Pease in Chilean Paper on Venezuela, Human Rights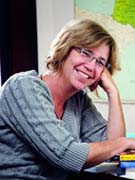 Kelly-Kate Pease, professor of international relations in the Webster University College of Arts & Sciences, was interviewed and quoted by El Mercurio, Chile's paper of record, regarding the election of Venezuela to the United Nations Human Rights Council.
Pease pointed out that the Human Rights Council, along with its predecessor the Human Rights Commission, has come to protect rights-abusive regimes from international judgment rather than advancing internationally recognized human rights.
Webster 2nd among Missouri Colleges/Universities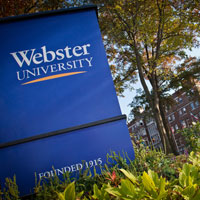 Webster University's recent ranking as 2nd in Missouri among colleges and universities was covered by STLtoday/St. Louis Post-Dispatch, and by local NBC affiliate KSDK/Newschannel 5.
"The rankings were reached by looking at student selectivity; cost/financing; faculty resources; campus safety; campus experience; educational outcomes; and employment outcomes," wrote Post-Dispatch reporter Joe Holleman.
See the KSDK coverage here, and STLtoday/Post-DIspatch here.

WalletHub's ranking evaluated many factors and found Webster to offer top degrees at an affordable price. Webster's announcement going into these rankings can be found here.