Rosen Receives Gerner Innovative Teaching Award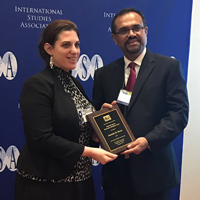 From helping people understand health insurance and wellness to addressing social issues, you've probably heard that gaming and simulation is a 21st century trend with many applications.
One Webster University faculty member was recently honored for employing them in the classroom as part of several innovative techniques to connect with the modern learner.
Amanda Rosen, associate professor of Politics and International Relations in Webster's College of Arts & Sciences, and academic director of the Global MA in International Relations program, has received the International Studies Association's 2017 Deborah Gerner Innovative Teaching Award.
Rosen is seen "at the forefront in the academic literature on the use of games and simulations in the classroom," using approaches like her "Zombie Pie" exercise and "Best Breakfast in Town" to engage students on challenging subjects that aren't always perceived as approachable.
"Zombie Pie" challenges students to engage in the politics of resource distribution by having them determine how to distribute slices of pie, the only food source, when zombies have them surrounded. Her "Human Rights Capture the Flag" game scenario introduces ethical dilemmas regarding treatment of prisoners during a standard capture the flag-style game.
"The Best Breakfast in Town" is a research methods exercise that runs the length of the course, with students collaborating on a straight-forward yet enticing question—where they should go for breakfast—and working together to review the literature, gather and code data and conduct statistical analysis.
The outcomes for students are beyond politics, human rights, and research methods; they also learn skills, engage in collaborative learning with each other, and learn how to apply their course concepts to their everyday lives.
Teaching Techniques, Human Rights, and the Global MA
Rosen accepted the award at the Annual Meeting of the International Studies Association in Baltimore, Maryland.
She also presented two papers, "Polyamory in Context: Marriage and the Human Rights of Polyamourous Persons," coauthored with Webster faculty members Lindsey Kingston and Danielle MacCartney, and "Truly Global Education: The Traveling Global MA Program." In addition, she ran a Creative Teaching and Course Design pre-conference workshop on Simulations and Games for Teaching Political Violence.
In deciding to honor Rosen, the awards committee was impressed by the consistent innovations in teaching she made in two particular areas: classroom game simulations and the teaching of research methodology.
Further, they recognized the "extensive and consistent efforts Dr. Rosen makes to disseminate her innovative teaching techniques, through journals, the Active Learning in Political Science blog [learn more about "Best Breakfast in Town" in this Active Learnings post] and ISA workshops. Committee members said Rosen's techniques and methods led them to reflect on their own teaching, with an eye to incorporating her techniques and methods into their own classrooms.
This is Rosen's second national recognition for her teaching in two years. Last year, the American Political Science Association recognized her work with the CQ Press Award for Teaching Innovation.
Rosen received one more piece of news at last week's conference: She was elected vice president and program chair for the International education section of the International Studies Association.