International Business Offers Saturday Schedule for Busy Students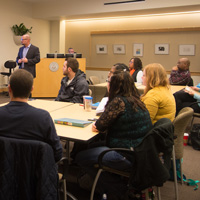 A special section of the International Business (INTB 5000) course will be offered on weekends in February for students who have busy weeknight schedules. The course has been offered in this format for the past two years to a specific cohort of students, but this year it is open to all students.
The course schedule for section two of INTB 5000 will be offered on Saturday, Feb. 4, 11, 18 and 25, from 8 a.m.-5 p.m.
"We wanted to provide an option for students who might travel for work during the week, registered late, or otherwise have obligations that make weeknight grad courses difficult," said Debbie Psihountas, professor and director of the MBA program in Webster University's George Herbert Walker School of Business and Technology.
For information on the course, visit the catalog listing.