International Campuses and Initiatives Leadership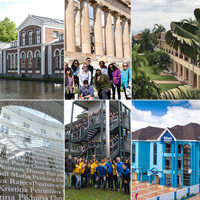 The following message from Provost, Senior Vice President and Chief Operating Officer Julian Schuster outlines changes to leadership of Webster's international campuses and initiatives:
Dear Colleagues:
As you know, we have been engaged over the past year – through the implementation teams and other collaborative working groups – in managing costs, finding efficiencies in our academic planning and operations, and developing revenue through enhancing existing and creating new programs and initiatives. In our international campuses and initiatives, there are opportunities for all of these measures. Achieving them will require close communication and collaboration among the international locations and between the locations and St. Louis in order to strengthen academics, streamline operations and budgets, develop and vet new initiatives, and align marketing, recruitment and enrollment management across all locations.
To that end, I am pleased to announce some changes in the leadership of our international campuses and initiatives. Effective immediately, Nancy Hellerud, vice provost, and John Pyle, chief innovation officer and vice president for new business, will assume oversight of international campuses and initiatives. Working collaboratively with academic and administrative units across the network, John will concentrate on marketing, recruitment and enrollment management at the campuses and partnerships, while Nancy will provide leadership for accreditation, academics and academic support, and operations. Webster's international campuses (Geneva, Vienna, Leiden, Athens, Ghana and Cha-am/Bangkok) will report to Nancy, while John will lead our growing (China, Uzbekistan) and developing partnership programs and initiatives to ensure their successful launch.
Nancy and John have worked together in the past, and I am sure their collaboration with each other and with colleagues at the international locations and in St. Louis will help achieve our goals of using existing resources in the most effective way, breaking down silos and increasing communication and transparency, and – most importantly – building and maintaining a sustainable and financially vibrant network of campuses and partnerships offering relevant and high quality programs for degree-seeking and visiting students.
Peter Maher, who served as AVP for International Campuses and Initiatives, will resume his faculty position in the department of Math and Computer Science in the George Herbert Walker School of Business & Technology.
Julian Schuster
Provost, Senior Vice President and Chief Operating Officer