I-Fest Mixes Local Flair with Global Diversity
Webster University International Festival (I-Fest) was a resounding success with a record turnout of over 375 people in attendance. The theme of this year's festival was "Together in Community." The event occurred on Friday, April 21, in Grant Gymnasium and highlighted local businesses and vendors as well as international performers from the St. Louis area.
I-Fest featured a wide variety of food, over 30 international foods to taste and enjoy as well as performances and cultural activities.
A lineup of six performances, including Kenya Ajanaku with African storytelling and drumming, South Indian folk dance, Grupo Atlantico with dances of Latin America, and the St. Louis Caledonian Pipe Band with Scottish piping. Cultural activities ranged from chess, with the five-time national award winning SPICE team, checkers, origami, henna and face-painting.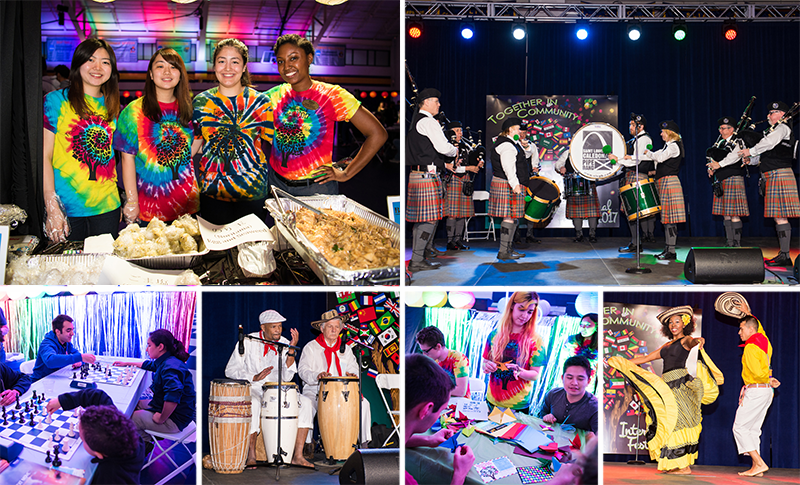 Webster Alumni, Faculty, Staff, and Student Involvement
Webster alumni participated in the event by providing a photo booth and assisted with its production. Linda Williams, advisor and adjunct faculty member in the School of Communications, was a drummer in the St. Louis Caledonian Pipe Band, and all of the planning and execution of the festival were organized by the MCISA professional and student staff together with a dedicated team of student, staff, faculty, and alumni volunteers. Over 90 volunteers helped pick up foods at local restaurants, decorated the gym, served cultural foods, lead activities, and welcomed guests. The International Student Association sponsored a fashion show by students dressed in international clothing.
About International Festival
The goals of the program include raising global consciousness and understanding of those different from ourselves by celebrating and showcasing performances from four cultural perspectives. The event provides students with an opportunity to interact with people of different ideas, beliefs, attitudes and backgrounds.
Key partners for the event included International Student Association, Define American and Japanese Student Association. Staff in enrollment management, student affairs, international languages and cultures department, the SPICE team and Centre Francophone also aided with the event.