ILC Launches New Translation Program in French and Spanish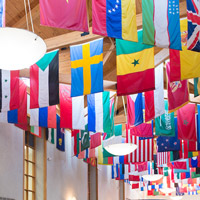 In the Fall, the Department of International Languages and Cultures (ILC) will begin offering French-to-English and Spanish-English Translation Certificates for all students.
Translation is one of the fastest growing occupations according to the U.S. Department of Labor, and Webster has one of the few professionally-oriented translation certificates in the country. This program will offer hands-on experience, introducing students to the world of professional translation and helping them prepare a portfolio.
This program will coincide with the move to the new Interdisciplinary Building, where there will be a state of the art Translation Lab.
According to Emily Thompson, ILC chair and professor of French, translation certificates are much needed.
"We proposed these certificates because we noticed an academic niche that was not being filled," Thompson said. "Our language majors are often interested in seeking translation work, but have no direct experience and are unfamiliar with the professional expectations."
"We are unaware of any other academic institution in Missouri that offers a certificate (open to both undergraduate and graduate students) that introduces students to the world of professional translation --with specific hands-on work in sub-fields like legal, medical/scientific, financial/commercial, technical as well as literary translation," she said. "We are excited to start courses in Fall 2017 with new instructors who are professional translators."
ILC is also developing a German-to-English translation certificate for the near future.
Brief Overview of Program:
12 credits that can be completed in one academic year
8-week, evening courses
Fall 2017 courses include the following:
TRFR 4090.01 Introduction to translation studies (Fall 1 Wednesdays 5:30 - 9:30)
TRSL 4000.01 Professional translation practices (Fall 2 Mondays 5:30 - 9:30 pm)
TRFR 4100.01 Legal translation (Fall 2 Wednesdays 5:30 – 9:30 pm)
Questions:
For more information, contact Jessica McKay in the International Languages and Cultures office at 314-246-822 or jessicamckay16@webster.edu.